Simple, creamy, and bursting with delicious flavors, this Mexican casserole with ground beef is a true winner in my kitchen. This dish has earned the title of my boyfriend's all-time favorite, and if you're a fan of chili soup, get ready to have a new favorite too.
What makes this beef casserole stand out is its sheer convenience. Everything comes together beautifully in just ONE POT, which not only means less cleanup (yay!) but also ensures that the flavors meld together perfectly. The magic happens as the spices infuse into the beef while it simmers away. Trust me, adding the spices at the right time is crucial for the depth of flavors that make this dish extraordinary. If you sprinkle them in at the end, you might miss out on some of the taste profiles that make this casserole truly special.
What can you use instead of beef
If you're looking to switch things up or cater to different dietary preferences, there are a couple of variations you can explore.
Ground Turkey or Chicken: If you're aiming for a leaner option or simply prefer poultry over red meat, ground turkey or ground chicken can be excellent substitutes for ground beef. Just follow the same steps for preparing the meat, and you'll still get that wonderful, rich flavor that defines this casserole.
How to serve mexican casserole
When dishing up your tasty Mexican casserole with ground beef, you have a couple of great options. You can serve it in bowls, sprinkle some cheese and spring onions on top. Another idea is to enjoy it with corn chips – either crushed over the casserole for crunch or as a dip. And the bonus? This dish is even better the next day, making it perfect for meal prep. Whether you're busy with work, family, or just want a quick and hearty homemade meal, this Mexican casserole with ground beef fits the bill.
Storing and Reheating
Storing: let the casserole cool down to room temperature. Then, transfer it into an airtight container. Pop it in the fridge, and it will stay fresh for up to 3-4 days.
Reheating: you can reheat for 1-2 minutes in the microwave. Another method is to reheat in the saucepan on a bit higher than low heat for 5-10 minutes.
Also, you can reheat in the oven: preheat it to a low to medium temperature (around 150°C or 300°F), cover the casserole with aluminum foil to prevent excessive drying, and reheat for around 10-15 minutes. You can also after 10 minutes remove foil, sprinkle with cheese and cook for 5 more minutes.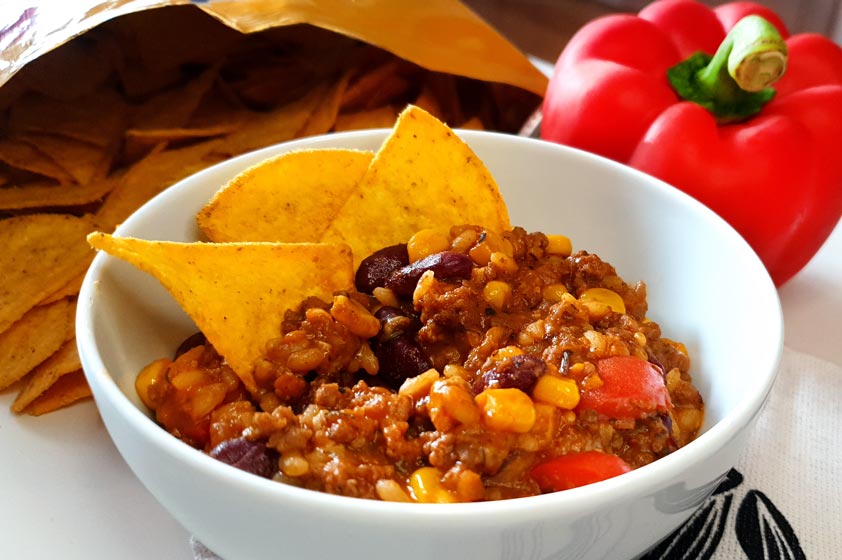 Mexican casserole with ground beef
Savor the rich flavors of this quick and easy Mexican casserole with ground beef. A simple one-pot recipe that's perfect for busy days or meal prep.
Ingredients
2

tbsp

olive oil

1

onion

2

garlic cloves

1

red bell pepper

500

g

 ground beef

70

g

tomato paste

500

ml

chicken broth

170

g

can of corns

400

g

red beans

1

cup

long grain rice

70

g

grated cheese

1

tsp 

dry cumin

1

tsp 

oregano

1

tsp 

basil

1

tsp 

dry smoked red pepper

1

tsp 

salt

1

tsp 

black pepper

1

tsp 

taco spices

1

tsp 

chili pepper

(optional)

spring onion

(optional)
Instructions
Separately chop onion and garlic into small pieces. Cut bell peppers into 1 cm cubes.

Heat the pot on a bit higher than medium heat, add olive oil and add chopped onions. Cook it till the onion starts to become brown and add garlic. Cook for 1 min.

Add beef and with a spatula break the beef into small pieces. When most of the beef changes color add all the spices. Cook for a couple more minutes and try if the taste of beef is good for you. Add more spices if needed.

In the mixture put bell pepper, stir and cook for a minute.

Add tomato paste and chicken stock, mix for a minute till tomato paste dissolves. Add corn, beans, rice and mix it well.

Lower the heat to lower than medium and cook for 10min.

After 10min check if there is enough spices for you and add more if you like. Cook for 10 more minutes.

While everything is cooking, chop the green onions. After 10 minutes, check if rice is done and if so add cheese and green onions (if no, cook a bit longer till rice are done). Mix and cook for one more minute.

Serve with tortilla chips and cheese on top.
Nutrition table of the mexican casserole with ground beef
| | |
| --- | --- |
| Nutrition Facts | |
| Amount per serving | 100 g |
| Calories | 173 Kcal |
| Energy value | 731 kJ |
| Fat | 3 g |
| Saturated Fat | 1 g |
| Carbs | 30 g |
| Sugar | 1 g |
| Protein | 6 g |
| Salt | 0 g |