Simple, creamy and delicious meal with all the flavors! So far my boyfriend's favorite meal and if you love chili soup – it will become your favorite too.
This beef casserole is convenient as you can cook everything in ONE POT (less dishes to clean 🙂 ) and it tastes good even the next day. All the flavors come from the spices which you need to season the beef with while it is still cooking. If you add them at the end, the dish won't have as many flavors as you would like. So far my favorite serving is with tortilla chips, but that is totally optional.
Prepare your biggest pot and let's cook!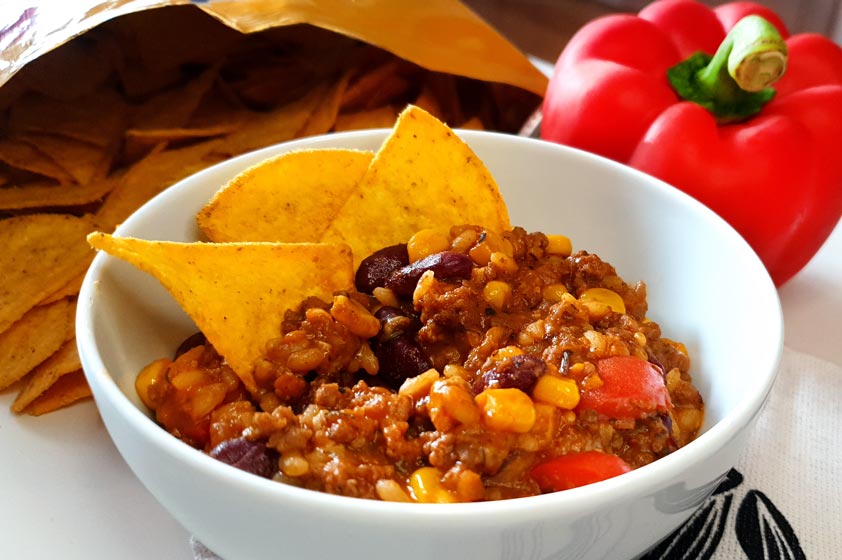 🕐Prep Time: 15 min 🕐Cook Time: 20 min 🥄Serves: 4 portions
INGREDIENTS
2 tbsp. of olive oil
1 onion
2 garlic cloves
1 red bell pepper
500g of ground beef
70g of tomato paste
500 ml of chicken broth
170 g can of corns
400 g of red beans
1 cup of long grain rice
70g of grated cheese
1 tsp dry cumin
1 tsp oregano
1 tsp basil
1 tsp dry smoked red pepper
0.5 tsp salt
0.5 tsp black pepper
0.5 tsp chili pepper (optional)
1 tsp taco spices (optional)
INSTRUCTIONS
Separately chop onion and garlic into small pieces. Cut bell peppers into 1cm cubes.
Heat the pot on a bit higher than medium heat, add olive oil and add chopped onions. Cook it till the onion starts to become brown and add garlic. Cook for 1 min.
Add beef and with a spatula break the beef into small pieces. When most of the beef changes color add all the spices. Cook for a couple more minutes and try if the taste of beef is good for you. Add more spices if needed.
In the mixture put bell pepper, stir and cook for a minute.
Add tomato paste and chicken stock, mix for a minute till tomato paste dissolves. Add corn, beans, rice and mix it well.
Lower the heat to lower than medium and cook for 10min.
After 10min check if there is enough spices for you and add more if you like. Cook for 10 more minutes.
While everything is cooking, chop the green onions. After 10 minutes, check if rice is done and if so add cheese and green onions (if no, cook a bit longer till rice is done). Mix and cook for one more minute.
Serve with tortilla chips and cheese on top.
| | |
| --- | --- |
| Nutrition Facts | |
| Amount per serving | 100 g |
| Calories | 173 Kcal |
| Energy value | 731 kJ |
| Fat | 3 g |
| Saturated Fat | 1 g |
| Carbs | 30 g |
| Sugar | 1 g |
| Protein | 6 g |
| Salt | 0 g |