Moist, sweet and a bit sour honey cake. One piece is enough as it is quite filling. This cake is even better if it stays in the fridge for 2 days as it gets an even richer taste. Be sure to put a thick layer of sour cream mixture to get a delicious and moist honey cake.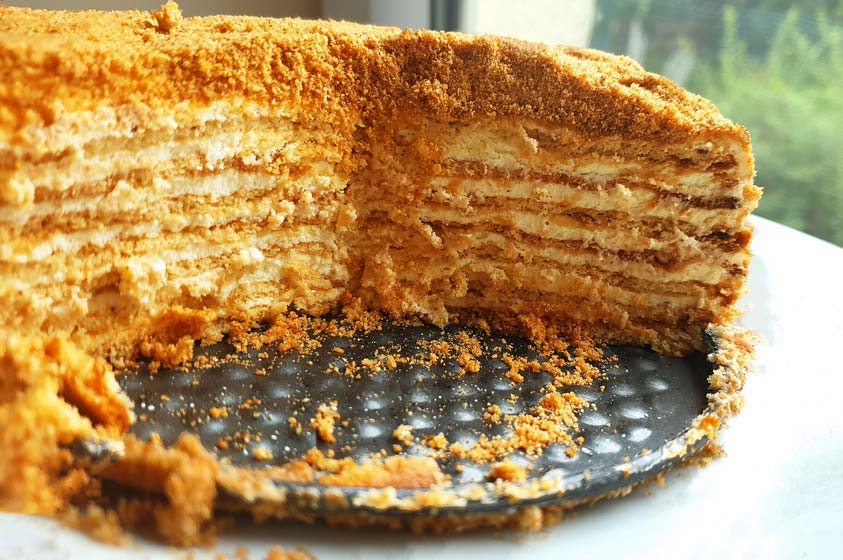 🕐Prep Time: 1 hour 🕐Cook Time: 40 min 🥄Serves: 20 cm cake form
INGREDIENTS
80 g of sugar
80 g of honey
40 g of butter
1 egg
340 g of flour (+40g for sprinkling on the table)
0.5 tsp cinnamon
0.5 tsp baking powder
0.25 tsp vanilla powder
500g of sour cream (30%)
2 tbsp of powdered sugar
Half of small lemon juice
20cm cake form
INSTRUCTIONS
In the bowl mix dry ingredients: 340g of flour, vanilla powder, baking powder and cinnamon.
In another bowl add butter, sugar, and honey. Melt it in the steam bath. Let it cool down a bit and then mix in the egg.
To the butter, sugar, honey and egg mixture, gradually add dry ingredients. When the mixture becomes firm, start mixing by hand.
Preheat the oven to 180-190°C.
Sprinkle the table with the left 40g of flour, take a piece of dough and roll it thinly. Transfer it on the baking paper and roll a bit again. With the cake form cut the form you need and remove the leftover pieces.
With the fork, stab the dough several times. Bake in the oven for 4-5 min (depending on the oven). Cake layer must become brown. Repeat this process until there's no dough left. You will need 8 cake layers. Crush the leftover pieces (can also blend them) to use for decoration. Choose one cake layer with the smoothest surface and set it aside – it will be used for the last top layer.
Prepare the filling: in the bowl add sour cream and powdered sugar, mix with a hand mixer until it's texture just starts to become stiff.
Add lemon juice and mix for a bit and try if the taste is good for you. Add more lemon juice if you want more sourness. Continue mixing till texture becomes stiff, but be careful not to over mix it.
Start layering the cake: at the bottom add cake layer – thick layer of sour cream mixture – cake layer – sour cream mixture and continue till you put on top the smoothest pad. With the left sour cream mixture cover the top and sides of the cake.
Now take the crushed cake pieces and cover all the cake with them.
Carefully cover the cake with plastic wrap (or in other your preferred way) and put it in the fridge. Let it stay overnight or even better – for a day (then it will become even more moist).
| | |
| --- | --- |
| Nutrition Facts | |
| Amount per serving | 100 g |
| Calories | 332 Kcal |
| Energy value | 1388 kJ |
| Fat | 16 g |
| Saturated Fat | 10 g |
| Carbs | 41 g |
| Sugar | 17 g |
| Protein | 5 g |
| Salt | 0 g |