Quick crab stick salad with rice in only 20 minutes! Perfect dish to eat between meals as it will make you full until your main meal. It's a wonderful, inexpensive dish made with imitation of the crab meat that will definitely satisfy your cravings.
This meal is popular throughout Eastern Europe and in Lithuanian we are calling it "krabų mišrainė". You can often find it during any type of celebration.
Crab stick salad can be easily adapted to different tastes and preferences. Depending on your taste, you can both add more or less vegetables of your choice to the dish.
Making this salad is very easy, you will need only to chop most of the ingredients, add them to the bowl and mix everything together.
For this recipe I'm using light mayonnaise. However, you can use any type of mayonnaise, but using light mayonnaise will not only improve the flavor of the salad, but also it will make it easier to digest and the dish will be lower in calories.
So if you're looking for a quick and delicious meal that's easy to make, try making this crab stick salad with rice recipe!
Storing & serving
Prepare salads without the mayonnaise.
Allow it to cool completely to room temperature.
Transfer the salad to an airtight container and store in the refrigerator.
It is important to store the salad in an airtight container to prevent any bacteria growth and to maintain the quality and flavor of the dish. Salad can last in the refrigerator for up to 2-3 days.
Once you are ready to eat them, simply put the desired amount into the bowl, add mayonnaise and mix everything well.
Crab stick salad with rice recipe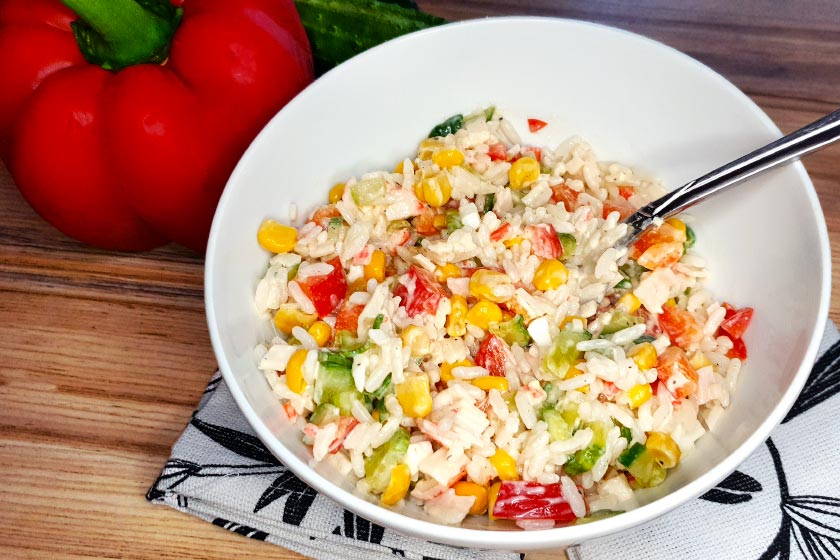 🕐Prep Time: 20 min 🕐Cook Time: – 🥄Serves: 4 portions
INGREDIENTS
150 g of crab sticks (imitation of crab meat)
170 g can of corns
100 g long grain rice
2 medium sized cucumbers
2 boiled eggs
1 red bell pepper
Black pepper
Mayonnaise (light)
INSTRUCTIONS
Start cooking rice. If you are not sure how to cook rice, check my blog to learn how to cook perfect rice each time.
While rice is cooking start cutting cucumber, bell pepper, crab sticks and eggs into small pieces. Place everything in the bowl.
Once rice are done, let them cool down. And only then add into the bowl. Mix everything well and sprinkle it with black pepper.
Add as much salad as you want into the separate bowl and add about a teaspoon of mayonnaise. Mix well and enjoy delicious crab and rice salad!
Nutrition table of crab stick salad
| | |
| --- | --- |
| Nutrition Facts (without mayonnaise) | |
| Amount per serving | 100 g |
| Calories | 139 Kcal |
| Energy value | 581 kJ |
| Fat | 3 g |
| Saturated Fat | 1 g |
| Carbs | 22 g |
| Sugar | 1 g |
| Protein | 6 g |
| Salt | 0 g |
FAQ
What kind of crab meat is used?
Imitation crab meat is the most popular choice to use in crab stick salad, as it is more budget-friendly and available almost everywhere. However, real crab meat can definitely be used in this dish.
Is Crab Stick Salad healthy?
The healthiness of crab stick salad depends on the ingredients used and the portion size. Using light mayonnaise and limiting the amount of dressing used can help make this dish healthier.
How long does Crab Stick Salad last in the refrigerator?
Salad can last in the refrigerator for up to 2-3 days if it is stored properly in an airtight container.
Can Crab Stick Salad be made ahead of time?
For sure, salad can be made ahead of time and stored in the refrigerator for later.
Can Crab Stick Salad be frozen?
No, it is not recommended to freeze this salad as the texture of the rice and crab meat may change upon defrosting. Also it is so easy to make, so why freeze it 🙂