Quick crab and rice salad only in 20 minutes! Perfect meal to eat between meals as it will make you full until your main meal. Even though it is made from imitation of crab meat it tastes delicious and is cheaper than using real crab meat. This dish is very common in Eastern Europe and is considered as comforting food.
I would recommend using light mayonnaise for this salad as it will be easier to digest and it will taste better. Optionally you can sprinkle salad with fresh green onions and/or dill.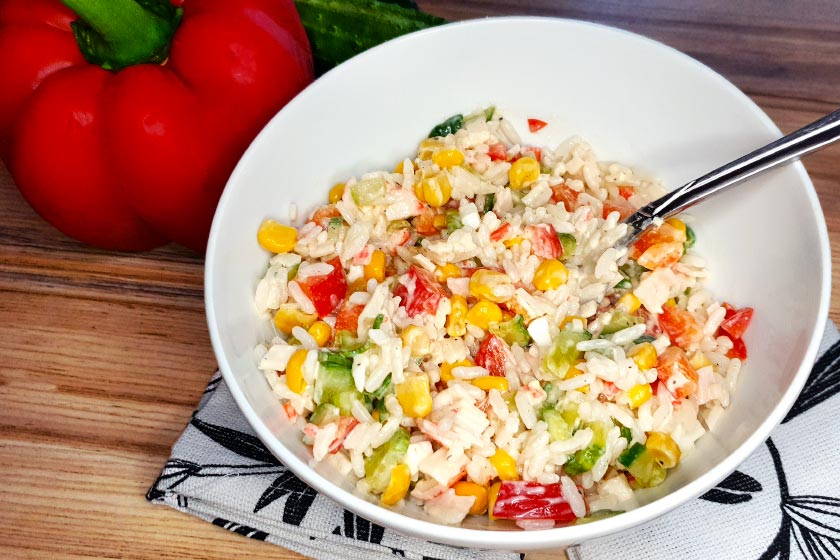 🕐Prep Time: 20 min 🕐Cook Time: – 🥄Serves: 4 portions
INGREDIENTS
150 g of crab sticks (imitation of crab meat)
170 g can of corns
100 g long grain rice
2 medium sized cucumbers
2 boiled eggs
1 red bell pepper
Black pepper
Mayonnaise (light)
INSTRUCTIONS
Add rice and water into the pot and boil. While rice is cooking (15-17 min) start cutting cucumber, bell pepper, crab sticks and eggs into small pieces. Place everything in the bowl.
When rice is done, let them cool down and only then add into the bowl. Mix everything well and sprinkle it with black pepper.
Add as much salad as you want into the separate bowl and add about a teaspoon of mayonnaise. Mix well and enjoy delicious crab and rice salad!
| | |
| --- | --- |
| Nutrition Facts (without mayonnaise) | |
| Amount per serving | 100 g |
| Calories | 139 Kcal |
| Energy value | 581 kJ |
| Fat | 3 g |
| Saturated Fat | 1 g |
| Carbs | 22 g |
| Sugar | 1 g |
| Protein | 6 g |
| Salt | 0 g |