A delicious curd cake with a cup of hot drink! Simple curd cake recipe which requires only several ingredients and is quick to make and enjoy!
Cake might resemble a Russian chocolate cake, however ingredients are quite different.
Greek yogurt in this recipe is a sour cream alternative which saves fats and calories, but tastes as good as sour cream. It also gives a creamier texture to the cake.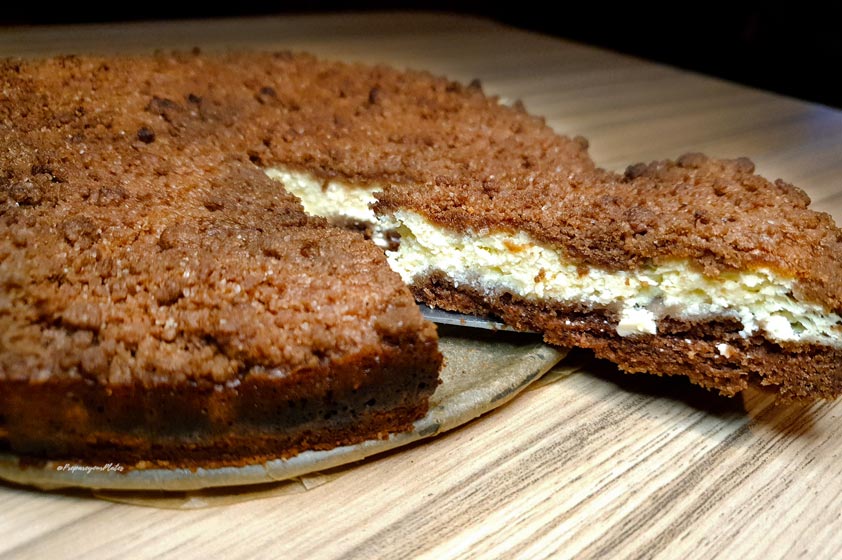 🕐Prep Time: 15 min 🕐Cook Time: 30 min🥄Serves: 20 cm cake form
INGREDIENTS
100 g cold butter
120 g white sugar
150 g flour
2 g baking powder
2 g vanilla sugar
1 tbsp. Cacao
200 g of curd (0.5% fat)
70 g Greek yogurt
2 eggs
1 tsp. Corn starch
INSTRUCTIONS
In a bowl stiff dry ingredients: flour, baking powder, vanilla, cacao and 80 grams of sugar. Mix it so all ingredients would combine. On top shred cold butter (or can chop to tiny pieces).
Combine ingredients together with your hands and make small crumbs. Set it aside.
Take a separate bowl, add left 40 grams of sugar and eggs. Whisk till fluffy consistency. Add Greek yogurt, curd and corn starch. Mix it with a hand mixer to get a smooth consistency.
Preheat the oven to 180 C.
With a bit of the butter grease cake tray and add baking paper. Butter will help paper to stay in the place and it will be easier to add dough.
On the baking paper add half of the dry ingredients' crumbs and gently press. Then pour and spread the curd mixture. On top spread the left crumbs and put in the oven for 30 minutes.
When it is done let it cool for a couple minutes.
Enjoy!
| | |
| --- | --- |
| Nutrition Facts | |
| Amount per serving | 100 g |
| Calories | 284 Kcal |
| Energy value | 958 kJ |
| Fat | 13 g |
| Saturated Fat | 8 g |
| Carbs | 32 g |
| Sugar | 16 g |
| Protein | 9 g |
| Salt | 0 g |