Indulge in a slice of heaven with our Cacao Cake with Curd Layer recipe! This delightful dessert is a popular treat in Eastern Europe and combines the rich flavor of cacao with a creamy curd layer. Made with simple ingredients and requiring minimal effort, it's the perfect sweet treat for any chocolate lover.
Not only is this cake packed with flavor, but it also has a healthier twist. The Greek yogurt in this recipe serves as a sour cream alternative, cutting down on fats and calories while still delivering the same delicious taste and creamy texture. So, go ahead and treat yourself to this heavenly slice of cake.
Storing and Reheating
Storing: To store the cacao cake, wrap it in plastic wrap or aluminum foil and keep it in the refrigerator for up to 5 days.
Reheating: To reheat, place a slice in the oven at 150°C (300°F) for 5-7 minutes or microwave it for 30-45 seconds.
Freezing: unfortunately, freezing is not recommended for this cake as it may affect the texture and taste.
Cacao cake recipe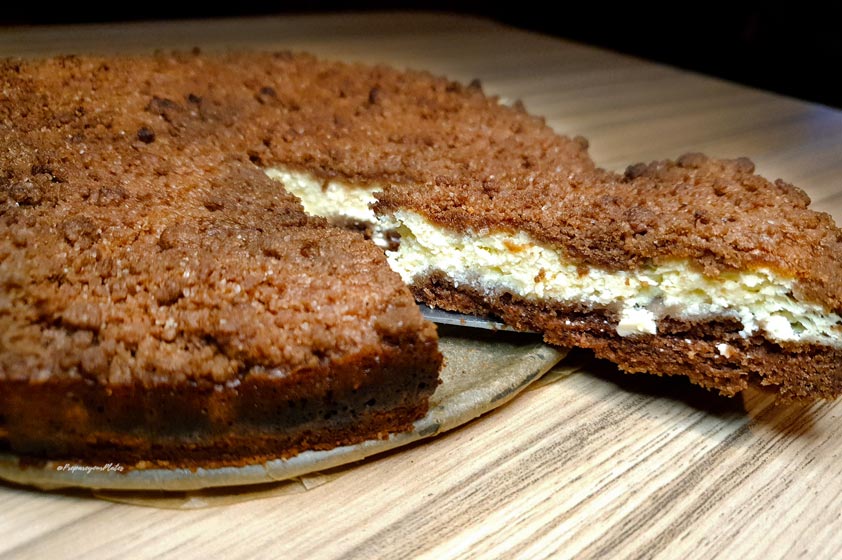 🕐Prep Time: 15 min 🕐Cook Time: 30 min🥄Serves: 20 cm cake form
INGREDIENTS
100 g cold butter
120 g white sugar
150 g flour
2 g baking powder
2 g vanilla sugar
1 tbsp. Cacao
200 g of curd (0.5% fat)
70 g Greek yogurt
2 eggs
1 tsp. Corn starch
INSTRUCTIONS
In a bowl, combine the dry ingredients: flour, baking powder, vanilla, cacao, and 80 grams of sugar. Mix until all ingredients are fully combined. On top, shred cold butter (or chop into small pieces).
Using your hands, combine the ingredients together to form small crumbs. Set it aside.
In a separate bowl, add the remaining 40 grams of sugar and eggs. Whisk until a fluffy consistency is achieved. Then, add the Greek yogurt, curd, and corn starch. Mix with a hand mixer until a smooth consistency is achieved.
Preheat the oven to 180°C (356°F).
Use a small amount of butter to grease the cake tray and line with baking paper. This will help the paper stay in place and make it easier to add the dough.
On the baking paper, spread half of the dry ingredient crumbs and gently press. Pour and spread the curd mixture on top. Then, add the remaining crumbs and bake in the oven for 30 minutes.
After it is finished, let the cake cool for a few minutes.
Enjoy!
Nutrition table of cacao cake with curd
| | |
| --- | --- |
| Nutrition Facts | |
| Amount per serving | 100 g |
| Calories | 284 Kcal |
| Energy value | 958 kJ |
| Fat | 13 g |
| Saturated Fat | 8 g |
| Carbs | 32 g |
| Sugar | 16 g |
| Protein | 9 g |
| Salt | 0 g |