A perfect cold weather soup that will warm you up and become your new favorite for its simplicity and tastiness. This turkey meatball soup is a healthy and enjoyable meal to share with your family.
In addition to being a healthy and low-calorie option, this turkey meatball soup is also great for when you're feeling sick. The warm broth and tender meatballs can help to soothe a sore throat and provide much-needed nutrients to help you get back on your feet. Plus, it's easy to customize with your choice of vegetables, so you can make it as flavorful as you like.
For this recipe, you can use either minced turkey breast or turkey shoulder. Both options will taste great, but keep in mind that turkey breast meat is drier and has less calories and fat compared to turkey shoulder meat.
When forming the meatballs, try to make them small as they will cook and taste better. So why wait? Let's get cooking and enjoy this comforting bowl of turkey meatball soup!

What other vegetables can be added to the soup?
There are many vegetables that can be added to turkey meatball soup. Some options include carrots, peas, corn, bell peppers, tomatoes, and green beans. You can also add leafy greens such as spinach or kale for an extra boost of nutrients. Feel free to mix and match to create your own unique version of the soup.
Storing and Reheating
Storing: To store soup, first let it cool to room temperature. Then, transfer it to an airtight container and place it in the refrigerator. Properly stored soup will last for 3-4 days in the fridge. Do not recommend freezing it.
Reheating: reheat the preferred amount of soup in the pot by simmering for 7-10 minutes. You can also reheat in the microware for couple minutes.
Turkey meatball soup recipe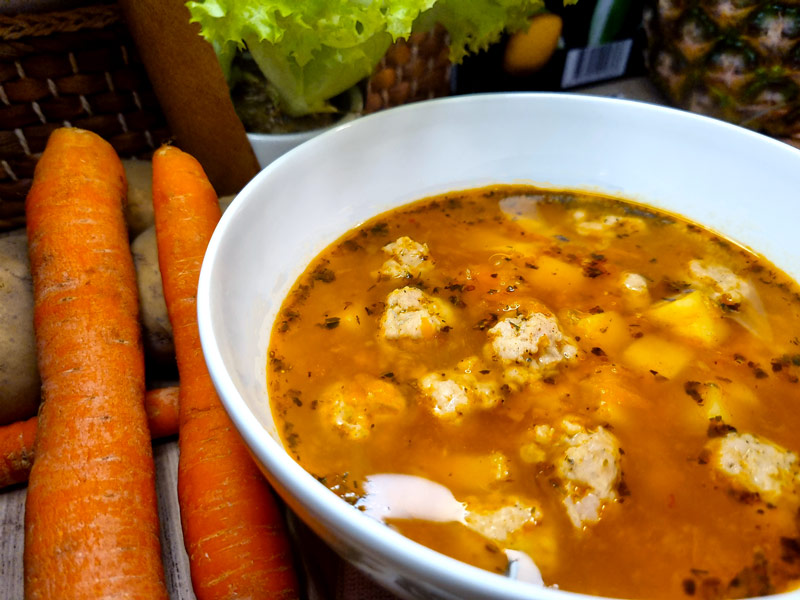 🕐Prep Time: 15 min 🕐Cook Time: 30 min🥄Serves: 4 portions
INGREDIENTS
500 g minced turkey shoulder /minced turkey drumettes
2 l chicken stock
1 carrot
3 medium sized potatoes
1 medium sized onion
0.5 tsp. Salt (if your chicken stock is not salty enough)
0.5 tsp. Pepper
1.5 tsp. Smoked paprika
1 tsp. Dry dill
1 tsp. Dry oregano
0.25 tsp. Chili
20 g butter
1 tbsp. Olive oil
Ground turkey spices
0.5 tsp. Salt
0.5 tsp. Pepper
0.5 tsp. Smoked paprika
1 tbsp. Dry parsley
INSTRUCTIONS
In a bowl add minced turkey and spices. Mix everything well and set it aside.
Chop onion and carrot into small pieces. Peel potatoes and cut into 1 cm cubes.
Heat a large pot over medium heat. Add the butter and oil.
Once the butter has melted, add the diced onion and cook for about 1 minute until it starts to soften.
Add the diced carrot and cook for an additional 5 minutes.
Pour the chicken stock into the pot. Bring the mixture to a boil.
Once the mixture is boiling, add the cubed potatoes. Reduce the heat to low and simmer for 8 minutes.
While the soup is simmering, form the turkey mixture into small meatballs (about 1 cm in size).
Once the meatballs are formed, add them to the pot. Stir the pot to evenly distribute the meatballs.
Add additional spices to taste (pepper, oregano, paprika, dill, chili, salt (if needed)).
Continue simmering the soup for an additional 10 minutes. If desired, taste the soup and add more spices if needed. Simmer for an additional 5 minutes.
Serve the soup hot, with a dollop of sour cream or Greek yogurt on top if desired.
Enjoy!
Nutrition table of turkey meatball soup
| | |
| --- | --- |
| Nutrition Facts | |
| Amount per serving | 100 g |
| Calories | 59 Kcal |
| Energy value | 246 kJ |
| Fat | 4 g |
| Saturated Fat | 1 g |
| Carbs | 3 g |
| Sugar | 1 g |
| Protein | 4 g |
| Salt | 0 g |