A perfect cold weather soup, which will warm you up. This delicious ground turkey meatball soup will become your favorite for its simplicity and tastefulness. It is a nice and healthy soup to enjoy with your family.
For this soup, you can use both minced turkey breast or turkey shoulder, both taste good. The difference is that turkey breast meat is dryer, has less calories and less fats than turkey shoulder meat. Regarding meatball forming, try to form little meatballs as they will taste and cook better.
I love to make it once I drive to a local store which has fresh turkey meat. Usually I buy about 2,5kg of ground turkey and prepare from it: turkey meatballs, turkey cutlets and turkey meatball soup.
Storing and Reheating
Storing: Can be stored in the fridge for up to 3 days. Do not recommend freezing it.
Reheating: reheat the desired amount of soup in the pot by simmering for 7-10 minutes.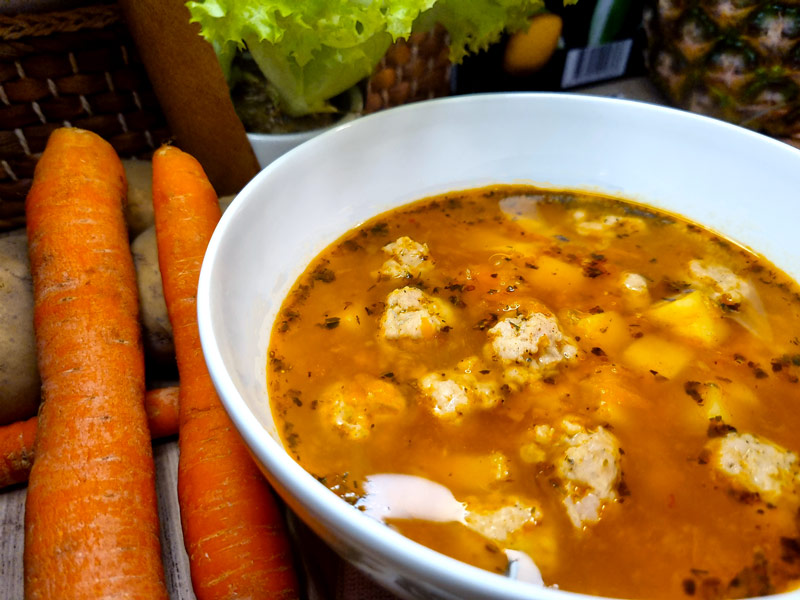 🕐Prep Time: 15 min 🕐Cook Time: 30 min🥄Serves: 4 portions
INGREDIENTS
500 g minced turkey shoulder /minced turkey drumettes
2 l chicken stock
1 carrot
3 medium sized potatoes
1 medium sized onion
1 egg
0.5 tsp. Salt
0.5 tsp. Pepper
1.5 tsp. Smoked paprika
1 tsp. Dry basil
1 tsp. Dry dill
1 tsp. Dry oregano
0.25 tsp. Chili
20 g butter
1 tbsp. Olive oil
INSTRUCTIONS
In a bowl add minced turkey, a bit of salt, pepper, 0,5 tsp of smoked paprika and egg. Mix everything well and set it aside.
Chop onion and carrot into small pieces. Peel potatoes and cut into 1 cm cubes.
Heat a big pot to medium heat, add butter and oil.
Add onions to the pot and cook for about a minute, then add carrots and cook for 5 minutes. Pour chicken stock in the pot.
Once water starts boiling – add potatoes. Lower heat to low and cook for 8 minutes.
Then start making small meatballs (1 cm) and add them straight to the pot. Once all of the meatballs are added, stir the pot and add spices (pepper, basil, oregano, chili and additional salt if your chicken stock is not salty enough).
Cook for about 10 minutes, check if there is enough spices for you and cook for another 5 minutes.
Can serve with sour cream or Greek yogurt.
Enjoy!
| | |
| --- | --- |
| Nutrition Facts | |
| Amount per serving | 100 g |
| Calories | 59 Kcal |
| Energy value | 246 kJ |
| Fat | 4 g |
| Saturated Fat | 1 g |
| Carbs | 3 g |
| Sugar | 1 g |
| Protein | 4 g |
| Salt | 0 g |