Enjoy a delicious experience with this easy chicken schnitzel recipe. Discover a dish that's crispy, flavorful, and truly satisfying. Thinly pounded, breaded, and fried to perfection, chicken schnitzel is a beloved culinary delight that has won the hearts of food enthusiasts worldwide.
What is Schnitzel?
Schnitzel, a culinary masterpiece that originated in Austria and Germany, is made by crushing chicken or veal until it is very thin, breading it, and pan-frying. The word "schnitzel" comes from the German word "schneckel," which means "little cutlet." Schnitzel can be cooked using a variety of meats, including turkey, pork, beef, and even plant-based substitutes, in addition to the usual chicken and veal.
What to serve with Chicken Schnitzel?
Chicken schnitzel can be served with a variety of side dishes. While traditional pairings schnitzel is french fries, you have the option to select from a variety of sides. You can consider also these side dishes:
mashed potatoes
leafy green salads
creamy mayo-dressed carrot salads
soft green beans
Before eating, squeeze a juicy lemon over your chicken schnitzel as a finishing touch. Additionally, consider pouring melted butter on top for additional moisture and deliciousness.
How to lower calories in Chicken Schnitzel
For those who are mindful of their calorie intake, there are several strategies to enjoy chicken schnitzel while staying health-conscious:
Choose lean cuts: use lean chicken cuts such as chicken breast or tenderloin. These cuts have lower fat content compared to darker meat portions.
Use whole wheat breadcrumbs: replace traditional breadcrumbs with whole wheat breadcrumbs. They add a nuttier flavor and more fiber, making your schnitzel both healthier and more satisfying.
Different cooking methods: you can lightly toast breadcrumbs in a dry pan over medium heat before applying them to the chicken. After coating the chicken with the breadcrumbs, you have the option to either bake it in the oven or use an air fryer. These techniques require less oil compared to traditional frying, reducing overall calorie intake.
By incorporating these strategies, you can enjoy your chicken schnitzel with confidence, knowing that you're taking steps to lower its calorie content while still savoring its delightful flavors. Keep in mind that these techniques may impact the taste, so don't hesitate to experiment and discover the approach that suits your palate the best.
Oven baked Chicken Schnitzel
For oven-baked schnitzel, begin preheating your oven to 200 degrees C (390°F). As the oven preheats, prepare a large baking sheet by lining it with aluminum foil and drizzling one teaspoon of olive oil over the foil.
Now lightly toast breadcrumbs in a dry pan over medium heat. Afterward, apply the breadcrumbs to the chicken. Coat the chicken first in flour, then in an egg mixture, and finally in the breadcrumbs.
Place the chicken schnitzel on the baking sheet and shove it in the oven. After 5 to 6 minutes, gently flip the chicken. Return the baking sheet to the oven and continue baking. The chicken should no longer be pink in the center, and the breading should be lightly browned. This usually takes another 5 to 6 minutes.
Storing and Reheating
Storing schnitzel
Place it in an airtight container and refrigerate for up to a day. However, keep in mind that schnitzel tends to lose its crispiness over time, so it's best to enjoy it fresh.
You can also beat the chicken, sprinkle it with salt and pepper, dip in flour then – eggs and breadcrumbs. Place in an airtight container and cook them the next day in the oil.
Reheating schnitzel
When it's time to reheat your schnitzel, you have a couple of options:
1. Add a bit of butter on the schnitzel top and microwave for a couple of minutes.
2. More traditional approach is by reheating schnitzel in the oven at 170-180°C for about 15 minutes. You can also add a touch of butter on top during reheating which will help retain moisture, ensuring your schnitzel doesn't turn dry.
Do note, though, that reheated schnitzel won't be as crispy as its freshly fried counterpart.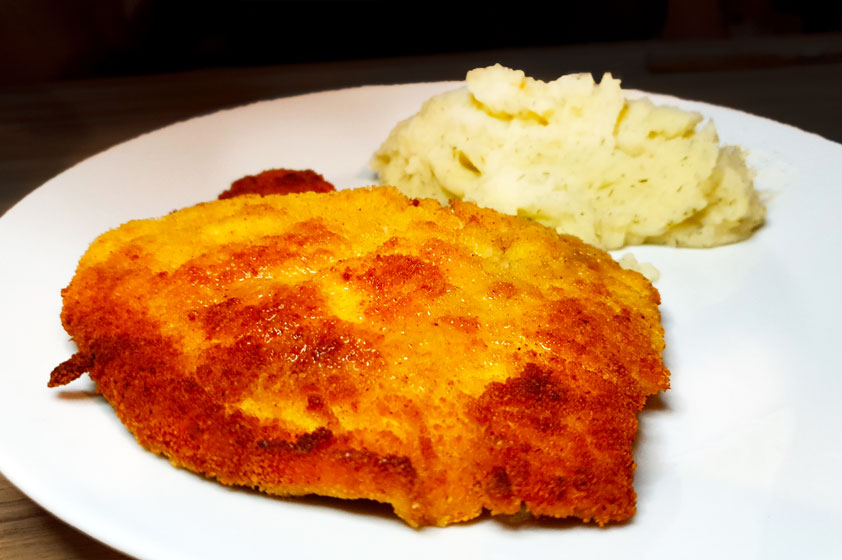 Easy chicken schnitzel recipe
Discover the perfect easy chicken schnitzel recipe that's crispy, flavorful, and simple to make.
Ingredients
400

g

chicken breast

2

eggs

1

cup

breadcrumbs

1

cup

flour

1

tsp

mustard

Salt & Pepper

Sunflower oil
Instructions
Slice chicken breasts horizontally to about 1cm thickness. Place a piece of plastic food paper and beat with meat tenderizer till the chicken becomes twice thinner.

Sprinkle chicken with salt and pepper on both sides.

Prepare dippings: in a plate add flour, in a bowl add eggs and a spoon of mustard – mix everything well and in one more plate add breadcrumbs.

Preheat the pan to medium high, add sunflower oil so the whole bottom of the pan is covered.

Dip chicken in flour (make sure that every part of the chicken is covered), then into the egg mixture and in the breadcrumbs. Add 1 or 2 pieces of the chicken in the pan (if you add more it won't cook evenly). Fry until both sides of the chicken becomes golden brown.

Place chicken on a paper towel to absorb excess oil.

Serve with the mashed potatoes and squeeze lemon juice on the top of schnitzel.
Nutrition table of chicken schnitzel
| | |
| --- | --- |
| Nutrition Facts | |
| Amount per serving | 100 g |
| Calories | 223 Kcal |
| Energy value | 938 kJ |
| Fat | 9 g |
| Saturated Fat | 2 g |
| Carbs | 19 g |
| Sugar | 1 g |
| Protein | 16 g |
| Salt | 0 g |