Thinly pounded, breaded and fried chicken Schnitzel is well known for it's crispy & rich flavor. This is one of the most known dishes served around the world in different variations.
What is schnitzel?
Schnitzel is a dish from Austria and Germany where chicken or veal is pounded thin and breaded before pan frying. The name comes from the German word schneckel meaning "little cutlet".
Schnitzel can be made from: chicken, turkey, pork, beef or veal and usually is served with french fries. However, you can choose different side dishes such as mashed potatoes, fresh salads, carrot salad with mayonnaise or green beans. Most important thing is to squeeze fresh lemon juice on the chicken schnitzel before eating. It gives an extra delicious taste. I personally like to add a bit of melted butter on top as well to have a moister schnitzel. This delicious and easy-to-follow recipe for crispy chicken schnitzel will have your family and friends begging for more!
Storing and Reheating
Storing: cooked schnitzel can refrigerate in an airtight container for up to 1 day as later it will be too soggy to eat.
You can also beat the chicken, sprinkle it with salt and pepper, dip in flour then – eggs and breadcrumbs. Place in an airtight container and cook them the next day in the oil.
Reheating: cook in the microwave for a couple minutes or in the oven for 15 min in 150-160°C (additionally you can add butter on top so the schnitzel isn't too dry). But remember that reheated chicken schnitzel will not be as crispy as the freshly fried one.
Freezing: not recommended.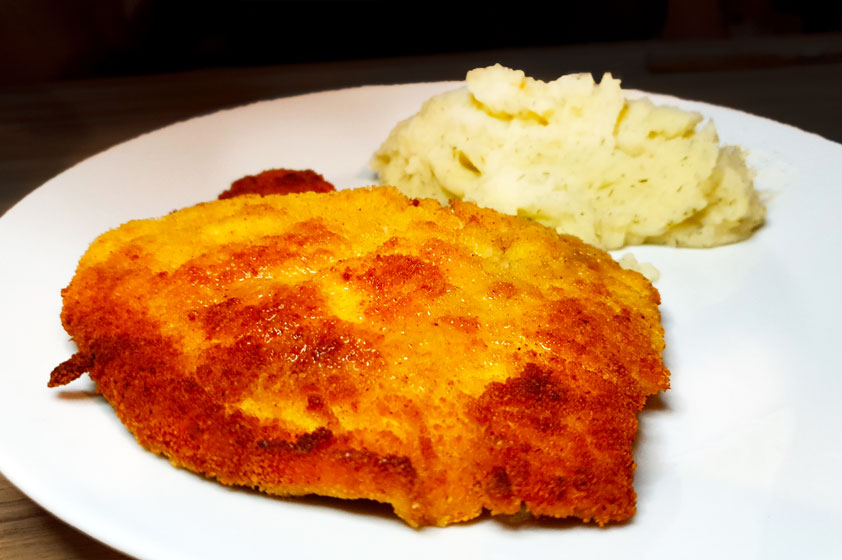 🕐Prep Time: 20 min 🕐Cook Time: 15 min🥄Serves: 4 portions
INGREDIENTS
400g of chicken breast
2 eggs
1 cup of breadcrumbs
1 cup of flour
1 tsp. of mustard
Salt & Pepper
Sunflower oil
INSTRUCTIONS
Slice chicken breasts horizontally to about 1cm thickness. Place a piece of plastic food paper and beat with meat tenderizer till the chicken becomes twice thinner.
Sprinkle chicken with salt and pepper on both sides.
Prepare dippings: in a plate add flour, in a bowl add eggs and a spoon of mustard – mix everything well and in one more plate add breadcrumbs.
Preheat the pan to medium high, add sunflower oil so the whole bottom of the pan is covered.
Dip chicken in flour (make sure that every part of the chicken is covered), then into the egg mixture and in the breadcrumbs. Add 1 or 2 pieces of the chicken in the pan (if you add more it won't cook evenly). Fry until both sides of the chicken becomes golden brown.
Place chicken on a paper towel to absorb excess oil.
Serve with the mashed potatoes and squeeze lemon juice on the top of schnitzel.
Enjoy!
| | |
| --- | --- |
| Nutrition Facts | |
| Amount per serving | 100 g |
| Calories | 223 Kcal |
| Energy value | 938 kJ |
| Fat | 9 g |
| Saturated Fat | 2 g |
| Carbs | 19 g |
| Sugar | 1 g |
| Protein | 16 g |
| Salt | 0 g |