Condensed milk waffles cake is a dessert that combines condensed milk with waffles, creating something sweet and delicious. The combination of waffles and condensed milk creates a rich and creamy texture, and the two flavors complement each other perfectly.
Condensed milk is a thick dairy product that comes from evaporating whole milk. It's often used to add sweetness and flavor to foods or beverages. The condensed milk gives it a rich taste and makes it super moist. This cake is super simple to make and requires only three ingredients. There's no special equipment needed either. In addition, you don't even have to cook it.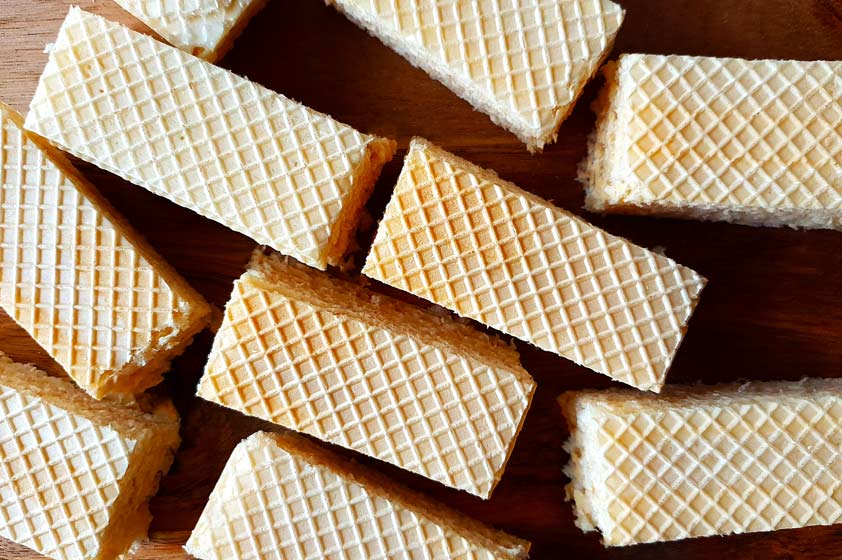 🕐Prep Time: 30min 🕐Cook Time: – min 🥄Serves: 1 big waffle
INGREDIENTS
130g of thin waffles
397g of sweetened condensed milk
100g of butter
INSTRUCTIONS
In the pot on medium heat melt the butter.
Pour condensed milk and mix till you get one consistency.
On the plate or cutting board start layering: waffle – 1-2 spoons of condensed milk mixture – gently press – waffle – 1-2 spoons of condensed milk mixture – gently press and repeat this process till you finish waffles or condense milk.
Firmly wrap waffles in the plastic wrap and leave in the fridge for 4-5 hours, best – overnight.
| | |
| --- | --- |
| Nutrition Facts | |
| Amount per serving | 100 g |
| Calories | 408 Kcal |
| Energy value | 1707 kJ |
| Fat | 11.5 g |
| Saturated Fat | 4 g |
| Carbs | 49 g |
| Sugar | 0.12 g |
| Protein | 7 g |
| Salt | 0.03 g |