If you're looking for a quick and easy vegetarian appetizer that is sure to impress, this baked eggplant appetizer recipe is a must-try. Made with fresh vegetables from your local farmer's market or garden, this dish is sure to be a crowd-pleaser. And this baked eggplant appetizer is one of my favorites.
Eggplants are a great source of fiber and vitamins, making them a healthy addition to any diet. This recipe is not only easy to make, but it's also a great way to use up any excess eggplants you might have lying around.
Eggplant appetizers makes a great snack on those cold winter nights when you need something warm and comforting. You can even make it ahead of time and reheat it in the oven when you're ready to serve.
Storing and Reheating
Storing: To store leftover eggplant appetizer, let it cool to room temperature and place it in an airtight container in the refrigerator. It will keep for up to 3 days.
Reheating: preheat your oven to 180°C (350°F) and place the eggplant appetizer on a baking sheet. Bake for 5-10 minutes or until heated through.
Freezing: let it cool to room temperature and place it in an airtight container in the freezer. It will keep for up to a month. However, it is always better to make it fresh 🙂
Eggplant appetizer – watch how to make it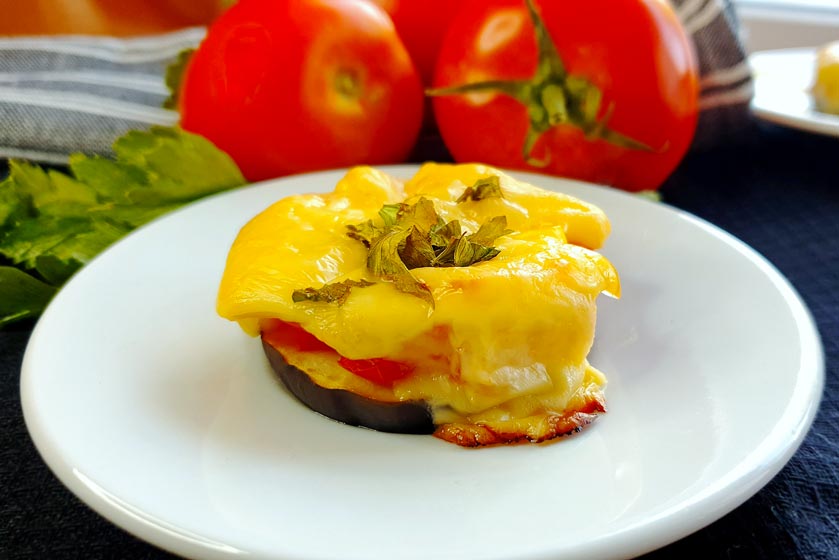 Eggplant appetizer recipe
This vegetarian eggplant appetizer is quick, easy, and delicious. Made with fresh vegetables, it's perfect for parties or a simple snack.
Ingredients
1

eggplant

2

tomatos

1

red bell pepper

3

tbsp

mayonnaise

1-2

garlic cloves

parsley
Instructions
To prepare the ingredients, slice the eggplant into 0.7-0.8 mm thick slices, slice the tomatoes into thin slices (0.2-0.4 mm), cut the bell pepper into 1 cm cubes, and chop the garlic and parsley into small pieces.

Preheat the oven to 200°C and prepare a baking tray.

On the tray, begin layering the ingredients in the following order: eggplant, bell pepper, mayonnaise, tomato, cheese, garlic, and parsley.

Bake for 25-30 minutes or until the top is golden brown.

After removing from the oven, let the eggplant appetizer cool for a couple of minutes on the tray.
Nutrition table of eggplant appetizer
| | |
| --- | --- |
| Nutrition Facts | |
| Amount per serving | 100g |
| Calories | 135 Kcal |
| Energy value | 559 kJ |
| Fat | 11.5 g |
| Saturated Fat | 2.4 g |
| Carbs | 4.3 g |
| Sugar | 2.9 g |
| Protein | 3.3 g |
| Salt | 1 g |