When it comes to quick and easy snacks, vegetables are your friend. And this baked eggplant appetizer is one of my favorites.
It's quick, easy and delicious. You can make it ahead of time and just pop it in the oven when you're ready to serve it. It's great for parties or just a simple snack on those cold winter nights when you need something warm and comforting.
This recipe is best when made with fresh vegetables from your local farmer's market or garden. The taste will be so much better than anything you could find in the store.
Once you try this baked eggplant appetizer, you'll find yourself craving it all year round!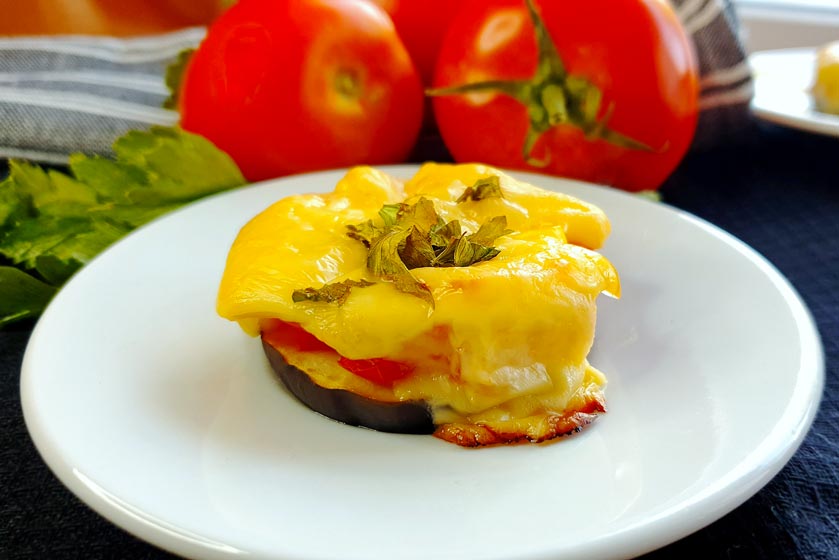 🕐Prep Time: 15 min 🕐Cook Time: 20-25 min 🥄Serves: 12-15
INGREDIENTS
1 Eggplant
2 Tomatoes
1 Red bell pepper
3 tbsp. of mayonnaise
1 garlic clove
60g of cheese
Parsley
INSTRUCTIONS
Prepare the ingredients:
Slice eggplant into 0.7-0.8 mm wide slices
Slice tomato into thin slides (0.2-0.4 mm)
Cut the bell pepper into 1 cm cubes
Chop garlic into small pieces
Chop parsley into small pieces
Preheat the oven to 200 C and prepare the tray.
On the tray start layering: eggplant – bell pepper – mayonnaise – tomato – cheese – garlic – parsley.
Cook for 20-25 min till the top gets golden brown.
After taking out the oven, let it cool for a couple minutes on the tray.
| | |
| --- | --- |
| Nutrition Facts | |
| Amount per serving | 100g |
| Calories | 135 Kcal |
| Energy value | 559 kJ |
| Fat | 11.5 g |
| Saturated Fat | 2.4 g |
| Carbs | 4.3 g |
| Sugar | 2.9 g |
| Protein | 3.3 g |
| Salt | 1 g |