Tiramisu is a classic Italian dessert consisting of ladyfingers soaked in espresso, mascarpone cheese, and rum or coffee liqueur. The name comes from the Italian word tirare meaning "to pull" because the ladyfingers are pulled apart before serving.
Tiramisu was originally created by combining three flavors: coffee, cocoa, and cream. In the early 1900s, it became popular at American cafeterias, where it was served with espresso.
It wasn't until the 1950s that tiramisu became a household favorite. This version consists of sponge cake layered with mascarpone cheese and covered with chocolate sauce.
There are many variations of this dessert, some do it with brandy, others with rum, some do with sponge cake, others – ladyfinger biscuits. If you like you can make Tiramisu alcohol-free. The key to its success lies in the quality of the mascarpone cheese. Use high quality mascarpone cheese for a smooth texture and rich taste.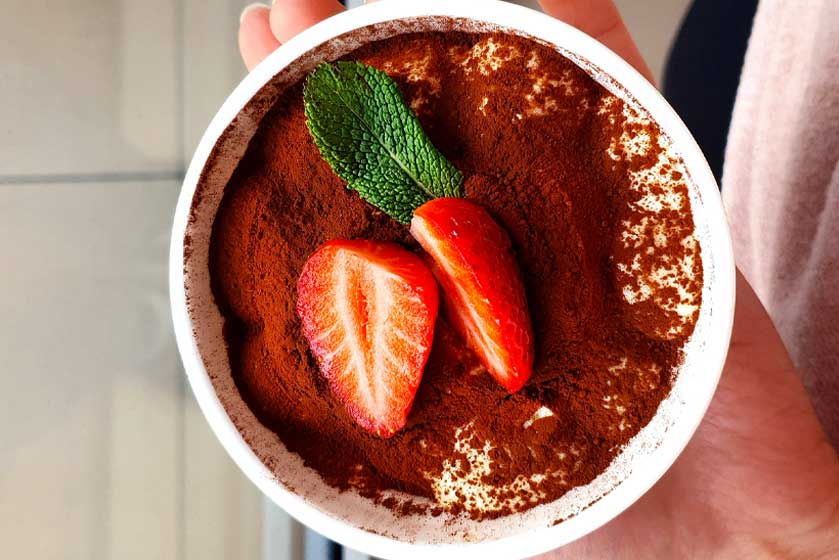 🕐Prep Time: 30min 🕐Cook Time: – min 🥄Serves: 9 cups or 1 big tray
INGREDIENTS
6 eggs
70g of white sugar (for egg yolk)
60g of white sugar (for egg white)
Pinch of salt
0.5 teaspoon of vanilla sugar
30-50g of cacao powder
500g mascarpone cheese
500g of ladyfinger biscuits
7 espresso shots
2 tablespoon of dark Rum/Brandy
INSTRUCTIONS
Prepare espresso, put Rome and mix (best to pour it in a bowl). Let it cool down.
Separate egg yolks from the whites.
In the bowl whisk egg whites with 60g of sugar and a pinch of salt. Whisk it until it becomes stiff. Put it in the fridge.
In a separate bowl whisk egg yolks with sugar and vanilla till it becomes light color. Take the spatula, add mascarpone and gently mix by clockwise.
In the mascarpone mixture add egg whites and again gently mix by clockwise.
Prepare the tray where you will put tiramisu. Put some mascarpone mixture at the bottom and spread it. Start learning: soak ladyfingers biscuits one by one in the coffee mixture (quickly dip and take out) and cover the tray's bottom, add mascarpone mixture on top, spread it evenly, sprinkle with cocoa and repeat again the process: lady fingers soaked in coffee – mascarpone – cacao. Usually 2-3 layers are enough (depend on the tray size).
The top can be sprinkled with cacao (or you can sprinkle top before serving), covered with plastic wrap and put in the fridge for at least 5h (best – overnight).
Gustati il tuo tiramisù!
| | |
| --- | --- |
| Nutrition Facts | |
| Amount per serving | 100g |
| Calories | 341 Kcal |
| Energy value | 1436 kJ |
| Fat | 17 g |
| Saturated Fat | 1 g |
| Carbs | 38 g |
| Sugar | 23 g |
| Protein | 7.5 g |
| Salt | 0.2 g |
Tip for making a delicious Tiramisu
Don't soak! Quickly dip each side of the ladyfingers in coffee. If you leave for a bit too long, the ladyfingers' texture will become too soggy.
Don't use instant coffee, use freshly made espresso from an espresso machine or Moka pot.
Switch up the layers. Once layering tiramisu criss-cross ladyfingers' layers to get more stable tiramisu.
Instead of cacao, you can sprinkle the top with chocolate.
Alcohol in Tiramisu: you can use Marsala wine, dark rum, brandy or coffee flavored liqueur. But you can skip alcohol if you want alcohol-free tiramisu.