My favorite Lithuanian soup, perfect for hot summer days. In Lithuanian it is called Šaltibarščiai, which translates as cold borscht. Usually pink soup is served with boiled potatoes sprinkled with dill. However, it can also be served with fried potatoes, French fries or mashed potatoes. All depends on your taste.
This beetroot soup recipe is more for those who like thick soups. Therefore, if you add milk it will be less thick and still taste good. Also, it is possible to use kefir instead of sour milk, but this one you will definitely need to dilute with milk, as kefir has a stronger taste. The proportion with kefir is 1l of kefir and about 200-500ml of milk (the amount depends on your taste, if you like stronger kefir taste or lighter).
Beetroots: I always use boiled, peeled and vacumated beetroots which I later grate. If you can't find this type of beetroot, you can always buy fresh ones, boil them, cool down, peel and grate.
Storing
Storing: store in the bowl covered with plastic wrap in the fridge for up to 3 days.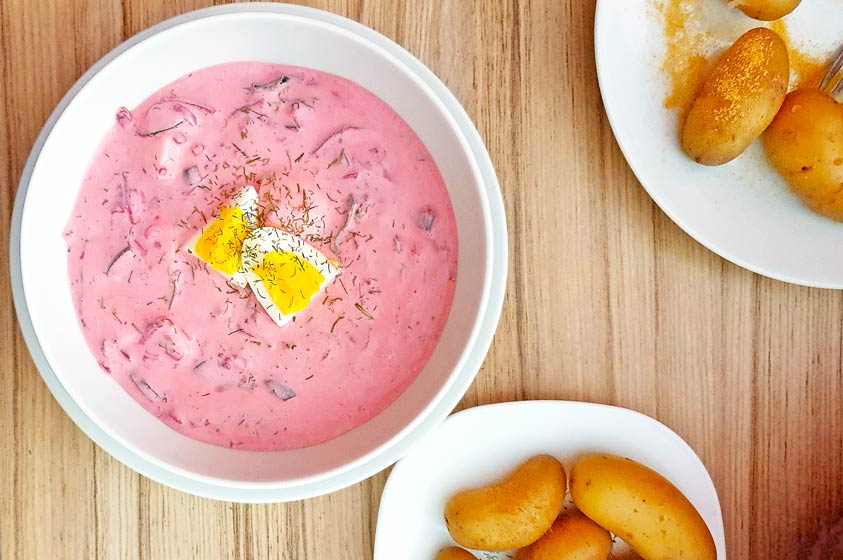 🕐Prep Time: 20 min 🕐Cook Time: –🥄Serves: 4 portions
INGREDIENTS
1l of sour milk (6%)
2 medium sized cucumbers
250g of boiled beets
40g of spring onions
20g of fresh dill
30-40ml of lemon juice
1 tsp. of salt
1 egg per bowl
Potatoes (about 150-200g per person)
INSTRUCTIONS
In a separate pot boil eggs (about 5-7 min).
While the potatoes are boiling, prepare the soup. In a bowl grate the beets, cut the cucumbers to thin slices (I like to cut it lengthwise, then in half and slice to triangles), add chopped dill and chopped spring onion.
With a spoon press the mixture in the bowl, so that all the juice would come out. Then add lemon juice, salt and mix it well.
Pour the sour milk and mix everything well. Taste if there is enough lemon juice and salt for you (you can also add salt separately in the bowl). Put it in the fridge while the potatoes are still boiling.
When the potatoes and eggs are ready, you can serve the soup: cut an egg into 8 pieces, put it in the bowl, pour the soup and sprinkle with chopped green onion (optional). Put potatoes on the plate and eat it as a side dish, don't put potatoes inside of the soup (unless you like it).
Skanaus!
| | |
| --- | --- |
| Nutrition Facts (without potatoes) | |
| Amount per serving | 100 g |
| Calories | 73 Kcal |
| Energy value | 307 kJ |
| Fat | 5 g |
| Saturated Fat | 3 g |
| Carbs | 4 g |
| Sugar | 3 g |
| Protein | 4 g |
| Salt | 1 g |