This is my favorite Lithuanian cold beet soup recipe that is easy to make and tastes delicious.
Šaltibarščiai, also known as cold pink soup, is a traditional Lithuanian dish that has been around for centuries. It has become popular all over the world in recent years, and it's not hard to see why.
What is Šaltibarščiai?
Šaltibarščiai is a Lithuanian cold beet soup that gets its name from the words "šalti barščiai," which means "cold borscht." It's a popular traditional dish in Lithuania that is typically served as a first course meal.
Šaltibarščiai gets its distinct pink color from the use of beetroots, which are a primary ingredient in the soup. In Lithuania, this traditional cold beet soup is most commonly found in restaurants during the summer months when the weather is warm, but it can be harder to find during other seasons.
What is Šaltibarščiai made of?
The main ingredient of the soup is beetroot as it gives the distinct pink color. In addition to beetroots, the soup also includes cucumbers, fresh dill, spring onions, and a mixture of kefir and milk.
For my cold beet soup recipe, I use sour milk (6%) instead of kefir and milk, which is more suitable for those who like thicker soups. If you prefer the traditional way of making Šaltibarščiai, you can use kefir and milk with a ratio of 1 liter of kefir and about 200-300 ml of milk (the amount depends on your taste).
For beetroots: when preparing the beetroots, I always use boiled, peeled, and vacuum-sealed beetroots, which I grate later. If you can't find this type of beetroot, you can always buy fresh beetroots, boil them, cool them down, peel them, and then grate them for the soup.
How to serve cold beet soup?
Traditionally, Lithuanian cold beet soup is served with boiled potatoes, garnished with sour cream and/or fresh dill. However, you can also serve the soup with fried potatoes, French fries, or mashed potatoes, depending on your taste. Potatoes are always served on the side, so you can either place a piece of potato in the soup and scoop it with the spoon to eat or take a spoonful of soup and then a piece of potato.
Storing Šaltibarščiai
Storing: place it in an airtight container and refrigerate. It's best to consume the soup within 2-3 days of making it to ensure its freshness and flavor. Before serving, give it a stir and taste for seasoning adjustments. If the soup has thickened in the fridge, you can add a little bit of milk or kefir to thin it out.
Freezing: not recommended.
Šaltibarščiai – watch how to make it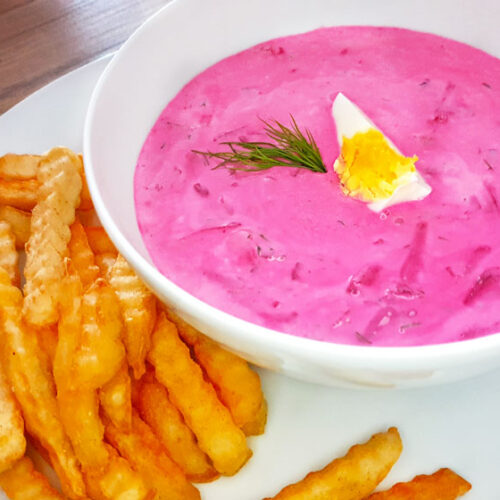 Cold beet soup recipe
Discover a taste of Lithuania with Šaltibarščiai – a traditional cold beet soup that's perfect for a refreshing summer meal.
Ingredients
1

l

sour milk (6%)

2

medium sized cucumbers

250

g

boiled beets

40

g

spring onions

20

g

fresh dill

30-40

ml

lemon juice

1

tsp

salt

1

egg per bowl
Instructions
In a separate pot boil eggs (about 5-7 min).

While the potatoes are boiling, prepare the soup. In a bowl, grate the beets, cut the cucumbers into thin slices (I like to cut them lengthwise, then in half and slice into triangles), and add chopped dill and spring onion.

Use a spoon to press the mixture in the bowl, so that all the juice comes out. Then add lemon juice, salt, and mix well.

Pour in the sour milk and mix everything thoroughly. Taste the soup to see if there is enough lemon juice and salt for your liking (you can also add salt separately in the bowl). Put it in the fridge while the potatoes continue to boil.

Once the potatoes and eggs are ready, you can serve the soup: cut an egg into 8 pieces, put it in the bowl, pour in the soup, and sprinkle with chopped green onion (optional). Put the potatoes on a plate and serve them as a side dish.
Skanaus!
Nutrition table of Cold Pink Soup
| | |
| --- | --- |
| Nutrition Facts (without potatoes) | |
| Amount per serving | 100 g |
| Calories | 73 Kcal |
| Energy value | 307 kJ |
| Fat | 5 g |
| Saturated Fat | 3 g |
| Carbs | 4 g |
| Sugar | 3 g |
| Protein | 4 g |
| Salt | 1 g |