Delicious, light and gluten-free buckwheat crepes! Perfect crepes for a weekend breakfast. They taste good even without filling, just add a bit of butter on the freshly cooked crepe and enjoy.
Buckwheat flour is good for sweet and savory dishes, however for me it tastes better with savory dishes. Despite the word wheat, buckwheat is naturally gluten free, and high in protein.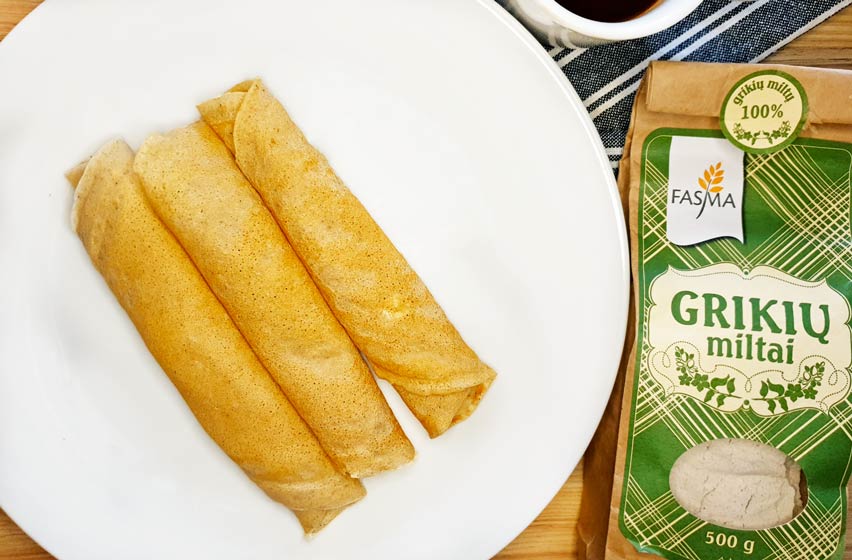 🕐Prep Time: 10 min 🕐Cook Time: 2 min per crepe 🥄Serves: in 20 cm pan 9 crepes
INGREDIENTS
75 g of buckwheat flours
175 ml of milk
2 eggs
A pinch of salt
Butter
Optional filling
Light Philadelphia cheese with herbs
Light cheese
Boiled sliced turkey ham
INSTRUCTIONS
Lightly whisk eggs in a bowl.
In a separate bowl, add four and salt. Gradually pour milk and whisk it. Try not to make any lumps.
In the flour and milk mixture add eggs and whisk. Leave it in the fridge for 10-30min.
While the dough is in the fridge you can prepare the ingredients for the filling: slice ham and cheese into small pieces.
Heat the pan, add a bit of butter and cook crepes. Each side should not take longer than 40-60secons.
You can eat them straight away with a bit of butter or: put some Philadelphia, ham, cheese and cook on less then medium heat in the pan till cheese melts.
Enjoy!
| | |
| --- | --- |
| Nutrition Facts | |
| Amount per serving | 100 g |
| Calories | 161 Kcal |
| Energy value | 673 kJ |
| Fat | 7 g |
| Saturated Fat | 3 g |
| Carbs | 15 g |
| Sugar | 2 g |
| Protein | 8 g |
| Salt | 0 g |