Super easy bell pepper soup which takes only 5 minutes to prepare. It is a comforting food which can be eaten all year round. Soup has a rich and creamy consistency with a bit of a sweet after taste from roasted bell peppers.
Mascarpone can be changed to heavy cream or plant based cream if you'd like a dairy-free bell pepper soup. Roasted vegetables have a strong taste, but adding vegetable broth will give it a less intense taste. For this soup recipe I am using dry herbs, but it can also be cooked with fresh ones. If you choose to cook with fresh ones, put them together in an oven with vegetables. Cooking herbs in the oven, will give more flavor to the soup.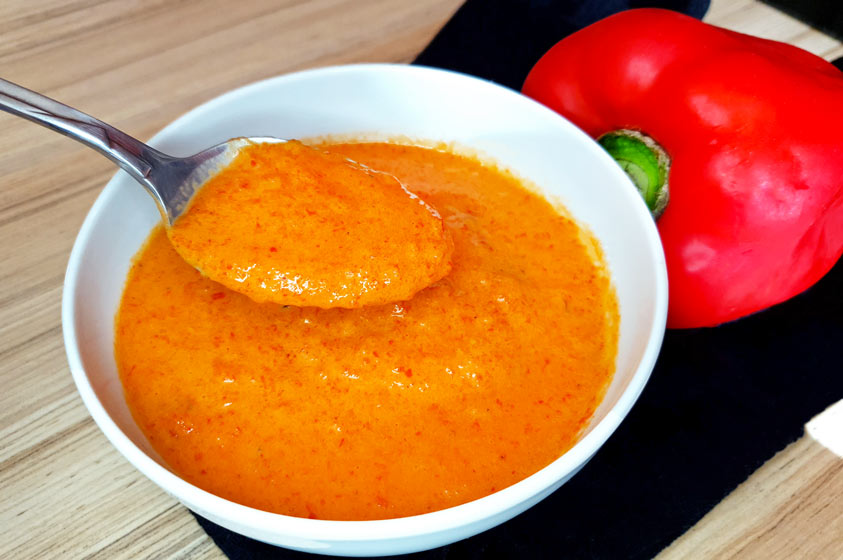 🕐Prep Time: 5 min 🕐Cook Time: 30 min🥄Serves: 2 portions
Yum
INGREDIENTS
2 medium sized red bell peppers
3 tomatoes
1 onions
0.5 tsp salt
0.5 tsp dry oregano
0.5 tsp dry basil
1.5 tbsp. mascarpone cheese
INSTRUCTIONS
Preheat the oven to 220C.
Cut bell peppers in half and deseed. Cut onion in half too.
On the baking tray place bell peppers, tomatoes and onion. Cook in the oven for 20-25 minutes until tomatoes start releasing the juice.
Optional: can take off the burned skin from bell peppers.
Place everything into the pot and blend a bit. Then add spices and mascarpone. Blend till smooth texture. Taste if there is enough spices for you.
Can serve with a bit of mascarpone or balsamic vinegar on top, basil leaf and a bit of black pepper.
| | |
| --- | --- |
| Nutrition Facts | |
| Amount per serving | 100 g |
| Calories | 43 Kcal |
| Energy value | 171 kJ |
| Fat | 2 g |
| Saturated Fat | 0 g |
| Carbs | 5 g |
| Sugar | 4 g |
| Protein | 1 g |
| Salt | 0 g |