Roasted bell pepper soup is a comforting and easy-to-make soup that can be enjoyed all year round. With just a few ingredients and a little over half an hour of prep time, you can enjoy a creamy and delicious soup that's packed with the rich, smoky flavor of roasted red bell peppers. One secret ingredient that takes this soup to the next level is mascarpone cheese.
If you prefer a more liquid soup, you can add a bit of vegetable broth or water to thin it out. This will also help to reduce the intense taste of roasted vegetables if you want a milder flavor. For this recipe, I'm using dried herbs, but if you prefer fresh ones, simply roast them together with the vegetables. Cooking herbs in the oven will infuse more flavor into the soup.
What to use instead of mascarpone cheese?
You can use 10-15% cream, 15% sour cream or Greek yogurt. If you'd like to make this soup vegan and dairy-free, you can substitute the mascarpone cheese with a plant-based cream like soy milk.
Serving options
Enhance soup presentation by drizzling heavy cream for an elegant touch or balsamic vinegar. Consider croutons or a pesto swirl to introduce contrasting textures.
Storing and reheating
Storing: let it cool to room temperature and then transfer it to an airtight container. You can keep it in the refrigerator for up to 3 days.
Reheating: transfer the soup to a saucepan and heat it on medium-low heat, stirring occasionally, until heated through. If the soup is too thick, you can add a bit of vegetable broth or water to thin it out.
Freezing: transfer soup to an airtight container and put in the freezer for up to a month.
Tomato and bell pepper soup – watch how to make it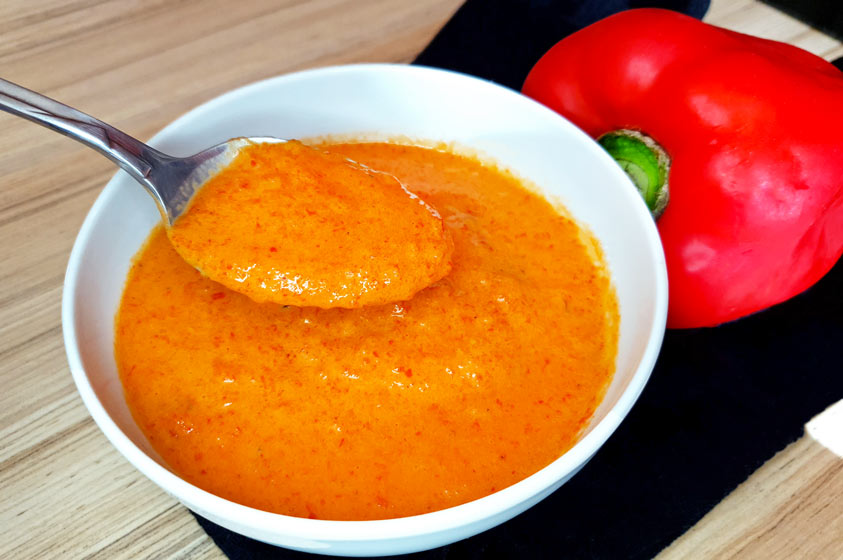 Creamy Tomato and Roasted Bell Pepper Soup recipe
This roasted bell pepper soup is super easy to make and has a rich and creamy consistency with a bit of sweetness.
Ingredients
2

medium sized red bell peppers

3

tomatoes

1

onion

3

garlic cloves

1

tsp

salt

1

tsp

pepper

2

tbsp

basil

(fresh or dry)

1

tbsp

dry oregano

1.5

tbsp

mascarpone cheese
Instructions
Preheat the oven to 220°C (428°F).

Cut the bell peppers in half and remove the seeds. Cut the onion in half as well.

On a baking tray, place the bell peppers, tomatoes, garlic and onion. Cook in the oven for 40-60 minutes until the tomatoes start releasing their juice.

Optional: remove the burned skin from the bell peppers.

Place everything into a pot, add fresh basil and blend until the mixture is smooth. Then, add the spices and mascarpone. Blend again until the mixture is completely smooth. Taste to check if the spices are to your liking.

Serve with a dollop of mascarpone or a drizzle of balsamic vinegar on top, garnished with a basil leaf and a sprinkle of black pepper.
Nutrition table of roasted bell pepper soup
| | |
| --- | --- |
| Nutrition Facts | |
| Amount per serving | 100 g |
| Calories | 43 Kcal |
| Energy value | 171 kJ |
| Fat | 2 g |
| Saturated Fat | 0 g |
| Carbs | 5 g |
| Sugar | 4 g |
| Protein | 1 g |
| Salt | 0 g |