Make Korean Japchae effortlessly with this easy recipe. Sweet potato starch noodles, vibrant veggies, and a flavorful sauce come together for a delicious Korean glass noodle stir-fry. Explore the world of Japchae, a dish enjoyed in Korean culture, often on festive occasions. It can be a flexible addition to your meals, served as a side or a satisfying main course. Learn how to prepare this Korean dish in your own kitchen.
What is Japchae?
Japchae (잡채) or Chapchae is a Korean dish which translates to mixed vegetables. It is a very popular dish during Korean festive holidays and usually is served as a side dish, but a bigger portion will fill you up. Japchae is prepared with sweet potato starch noodles – dangmyeon or other cellophane noodles (also known as glass, fensi or bean thread noodles) which are made of starch.
Is it served hot or cold?
Japchae can be enjoyed hot, at room temperature, or cold, catering to various preferences and occasions in Korea.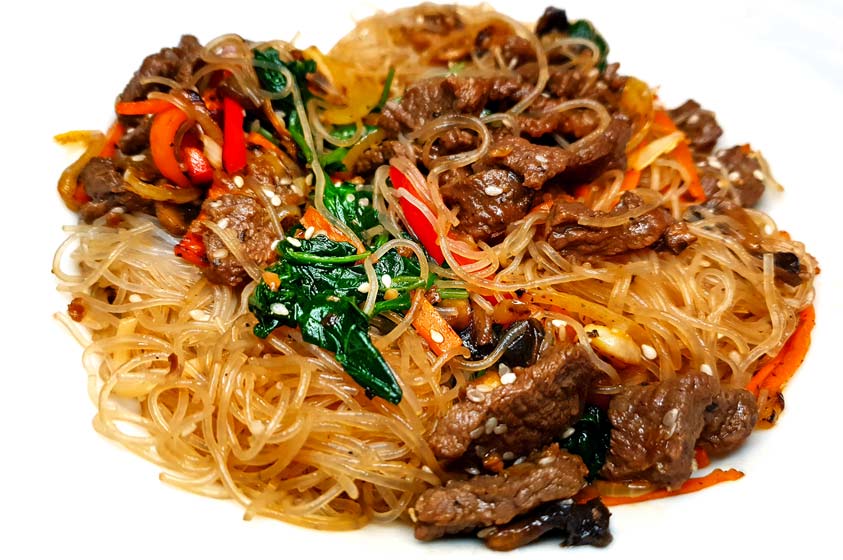 Ingredient substitutions & variations
The beauty of Japchae lies in its versatility, allowing you to personalize it according to your taste preferences and dietary choices. Here are some ingredient substitutions and variations to consider:
Other vegetables: broccoli, zucchini, green beans, sugar snap peas, bok choy or cabbage.
Proteins: pork, chicken, beef or egg omelet.
Make it spicy: If you enjoy a little heat, consider adding a tablespoon of Korean red pepper flakes (Gochugaru).
Feel free to get creative and adapt this recipe to your liking or what you have in the fridge.
Storing and reheating
Storing: place Japchae in an airtight container and store it in the fridge for up to 3 days.
Reheating: reheat in the pan on low heat for 5-10 minutes or in the microwave for up to 2 minutes.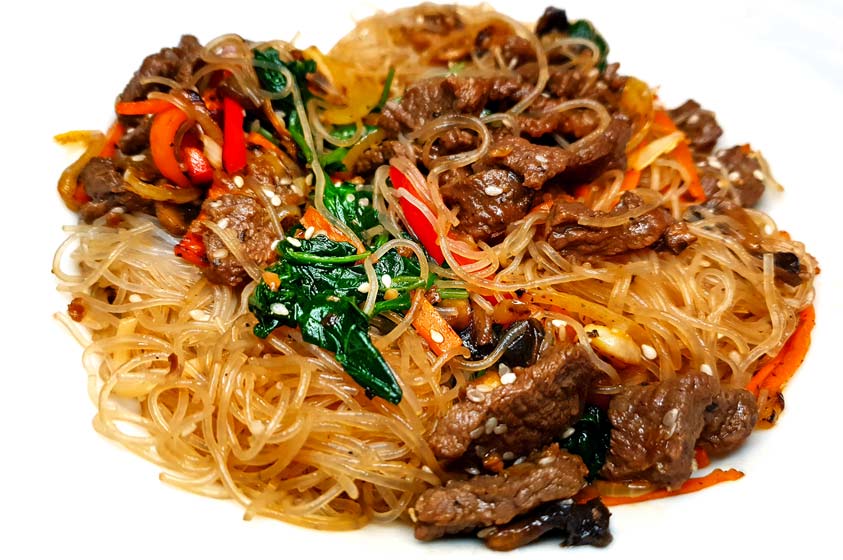 Easy Korean Japchae recipe
 Learn how to make Korean glass noodle stir fry, served hot or cold, with simple ingredients.
Ingredients
300

g

beef clod (shoulder)

1

medium sized onion

1

medium sized carrot

100

g

spinach

Half of red bell pepper

3

 medium sized mushrooms

(shiitake or champignons)

200

g

glass noodles

(or Starch noodles (Dangmyeon))

1

tbsp

sesame oil

A pit of black pepper
Sauce
5

tbsp

soy sauce

3

tbsp

sesame oil

2

tbsp

brown sugar

2

tbsp

sesame seeds

A bit of black pepper

2

garlic cloves
Instructions
Slice carrots and bell pepper into thin strips. Cut the onion in half and slice it lengthwise. Halve the mushrooms and then slice them lengthwise.

In a pan, on low heat, fry sesame seeds until they turn golden brown. Allow them to cool down and set them aside.

Slice the beef into thin strips, approximately 1.5 cm wide, 4 cm long, and 0.3 cm thick.

Prepare the sauce: In a bowl, mix soy sauce, sesame oil, brown sugar, chopped garlic, and half of the fried sesame seeds. Stir well and pour about 60% of the mixture over the beef. Ensure all the beef pieces are covered in the sauce. Set it aside, but avoid marinating the beef in the sauce for too long, as it may become too salty.

Cook the glass noodles according to the package instructions and set them aside.

Boil water in a pot. Wash the spinach and place it in the boiling water. After 1 minute, remove the spinach and immerse it in cold water for about 1-2 minutes. Squeeze out as much water as possible from the spinach and set them aside.

Heat the pan to slightly higher than medium heat. Add sesame oil, onions, and carrots. Fry for approximately 5 minutes. Then add the bell pepper, sprinkle with black pepper, and fry for an additional 5-7 minutes until the vegetables become soft. Transfer the cooked vegetables to a bowl and set them aside.

Heat the same pan over high heat. Add the beef and chopped mushrooms. Fry for 3 minutes, flipping the beef occasionally. 3 minutes should be sufficient for thinly sliced beef. If your beef is thicker, cook for an additional 2-3 minutes, but be cautious not to burn it. Place the cooked beef in a separate bowl and set it aside.

Clean the pan from the beef residue and heat it over medium heat. Add the glass noodles and pour the remaining sauce over them. Stir until the sauce is well combined with the noodles, which should take about a minute. Transfer the rice noodles to a bowl or plate.

Serving Option 1: In a pan, over low heat, add vegetables, beef, and noodles. Mix well and cook for a couple of minutes. Then serve.Serving Option 2: In a pan, add vegetables and beef, and cook for a couple of minutes over low heat. Then place the noodles on the plate and add the cooked vegetables and beef on top.

Sprinkle top with sesame seeds.
Nutrition table of Japchae
| | |
| --- | --- |
| Nutrition Facts (without noodles) | |
| Amount per serving | 100 g |
| Calories | 89 Kcal |
| Energy value | 376 kJ |
| Fat | 3 g |
| Saturated Fat | 1 g |
| Carbs | 4 g |
| Sugar | 2 g |
| Protein | 12 g |
| Salt | 1 g |