One of the tastiest and most known French desserts. However… It requires time and patience to make. Plan ahead as dough must be left in the fridge for 24-48h. Originally metal molds are used for caneles, which according to French is the right way to make them. However good quality silicon forms are good too when you don't have metal ones. Just make sure that the molds are not too close to each other as then the caneles won't cook evenly. Commençons!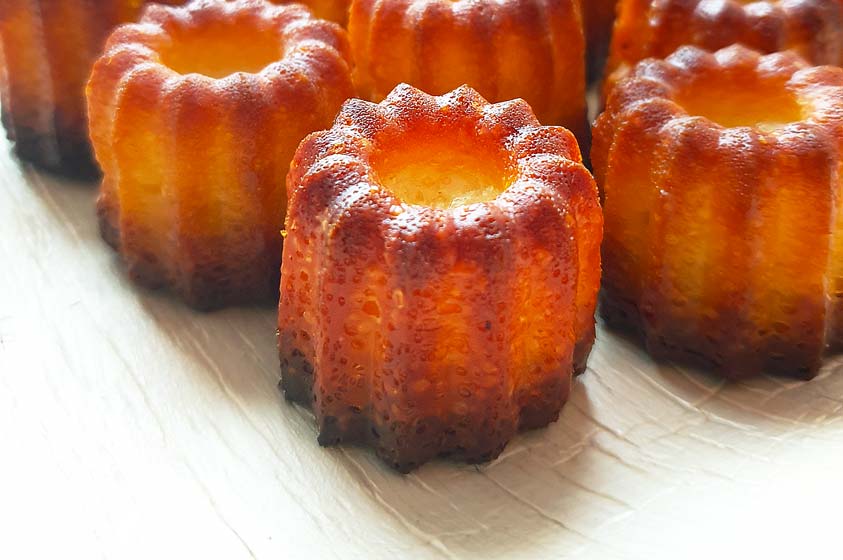 🕐Prep Time: 30 min 🕐Cook Time: 35 min 🥄Serves: 25 mini canelés
INGREDIENTS
500 ml milk
50 g butter
100 g flour
200 g caster sugar
1/2 teaspoon of salt
2 whole eggs
2 egg yolks
2 tbsp. of dark Rum
1 tsp. of vanilla sugar
40 g brown sugar
Canelés' mold 3.5cm height
INSTRUCTIONS
Melt butter in the pot on low heat and add milk.
On low heat let milk to start boiling and remove it from the stove. Let it cool down (you should be able to stick your finger in the milk and not get burned).
In a separate bowl mix dry ingredients: flour, sugar, salt and vanilla sugar. Sift dry ingredients together.
In a separate bowl whisk eggs (don't beat them, just mix them for several seconds). Add this mixture to dry ingredients and mix.
Slowly pour milk & butter mixture to dry ingredients & egg mixture and keep mixing.
Sift the mixture again to avoid any bigger pieces from egg yolks as the texture must be smooth. Add Rum and gently mix.
Leave mixture in the fridge for 24-48h.
Preheat the oven to 230C (temperature is very important for the caneles, so do not put them in the oven until it reaches exact temperature).
Prepare caneles' form: brush forms with butter and add a little bit of brown sugar.
Take the mixture out of the fridge, whisk a little bit and pour it into the forms up to 3 mm till the top (leave some space for caneles to rise).
Put caneles in the oven and bake for 10 min. After 10 min lower the heat to 190C and bake for 25 min (do not open the oven).
Caneles should get a dark golden look with caramelized, crunchy top. You can take one canele and cut it in half. The inside should look like a honeycomb, be soft and moist.
Take out the tray and leave it out for a couple of minutes to cool down. Now caneles can be taken out from the form.
Caneles are tastiest the first several hours, so don't leave them for tomorrow, eat right away.
Prenez plaisir de vos cannelés!
| | |
| --- | --- |
| Nutrition Facts | |
| Amount per serving | 100 g |
| Calories | 190 Kcal |
| Energy value | 802 kJ |
| Fat | 8 g |
| Saturated Fat | 4 g |
| Carbs | 28 g |
| Sugar | 21 g |
| Protein | 5 g |
| Salt | 0.4 g |