Prefect low calories sauce to serve with chicken, burgers, doner kebabs or as chip dip. Best to use 4% Greek yogurt with natural ingredients. For this recipe I prefer to use dry species except garlic. If you use dried garlic powder, it will taste more like store bought chip dip.
Enjoy homemade chicken kebabs with this delicious Garlic and Greek yogurt sauce!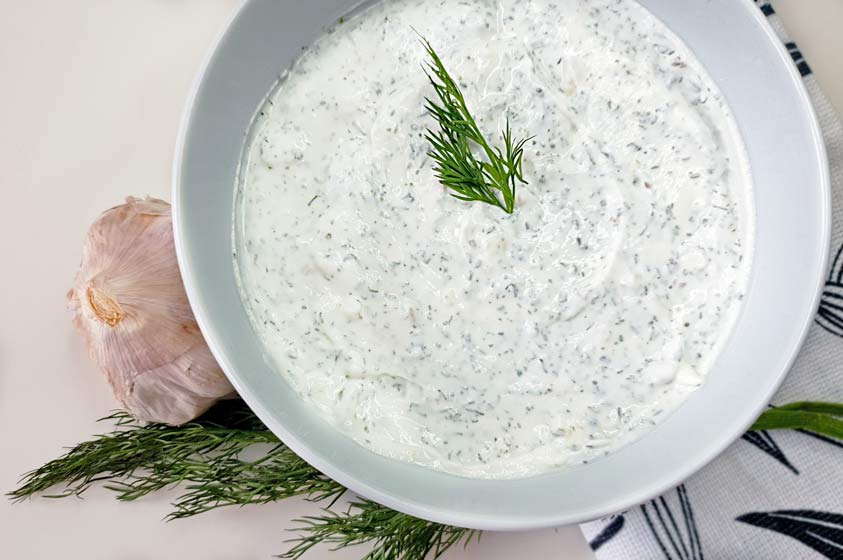 🕐Prep Time: 5 min 🕐Cook Time: – 🥄Serves: 2
INGREDIENTS
1 tsp. Dry basil
1 tsp. Oregano
1 tsp. Dry dill
½ tsp . sea salt
2 garlic cloves
200 g of Greek yogurt (4%)
INSTRUCTIONS
Put all the spices in a bowl, press garlic with garlic clamp or chop into very small pieces.
Add Greek yogurt and mix well. Check if there is enough salt and you can enjoy it!
| | |
| --- | --- |
| Nutrition Facts | |
| Amount per serving | 100 g |
| Calories | 85 Kcal |
| Energy value | 353 kJ |
| Fat | 4 g |
| Saturated Fat | 2 g |
| Carbs | 6 g |
| Sugar | 4 g |
| Protein | 7 g |
| Salt | 0 g |