Greek yogurt sauce is a delicious sauce that is perfect to serve with a variety of dishes. This quick recipe requires only a few simple ingredients. Whether you are serving it with chicken, burgers, kebab or using it as a dip for chips, this sauce is sure to impress.
Not only is this garlic yogurt sauce delicious, but it's also a great low-calorie option. By using Greek yogurt, which is high in protein and lower in fat than sour cream, you can enjoy this sauce without any of the guilt. Plus, by making it at home, you can avoid any unwanted additives or preservatives that are often found in store-bought dips.
Enjoy homemade chicken kebabs with this delicious Garlic and Greek yogurt sauce!
What else could be added to the sauce?
If you are looking for extra flavor or texture in your garlic yogurt sauce, there are a few options you can consider. One option is to add some mayonnaise to the mix. However, if you want to keep the calorie count low, it's best to use a light or low-fat mayonnaise.
Adding mayonnaise to the sauce can help to give it a creamier texture and a slightly tangy flavor. It also pairs well with the garlic and yogurt, creating a well-rounded taste. Just be sure to add the mayonnaise in small increments, as too much can overpower the other flavors. Best is to add 1 tbsp of mayonnaise for 200g greek yogurt.
Other ingredients that can be added to the sauce include lemon juice, dill, or even grated cucumber for a tzatziki-inspired twist. In the end, the beauty of this homemade garlic yogurt sauce is that it's completely customizable. So, feel free to get creative and add in your favorite ingredients to make it your own!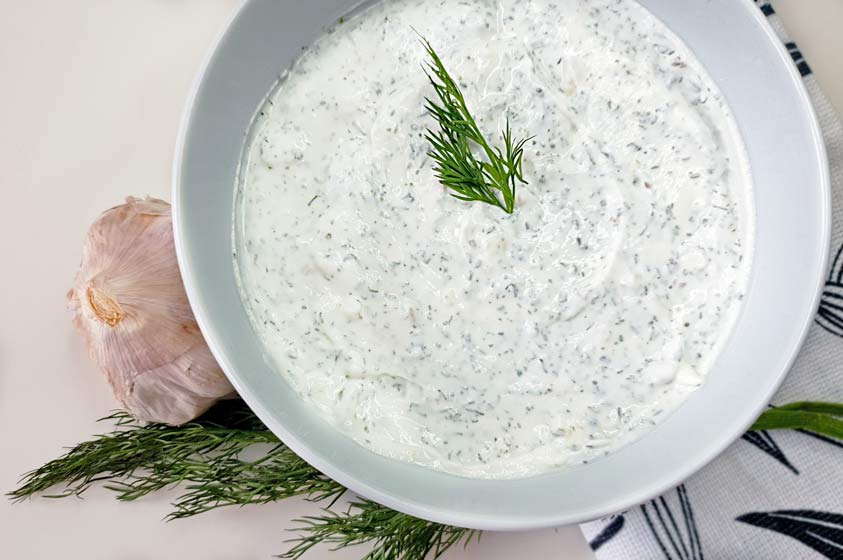 Homemade Garlic and Greek Yogurt Sauce recipe
Low calories sauce perfect to serve with chicken, burgers, doner kebabs or as chips dip. Just 5 minutes and you can enjoy it.
Ingredients
1

tsp

dry basil

1

tsp

oregano

1

tsp

dry dill

0.5

tsp

sea salt

2

garlic cloves

200

g

greek yogurt (4%)
Instructions
Put all the spices in a bowl, press garlic with garlic clamp or chop into very small pieces.

Add Greek yogurt and mix well. Check if there is enough salt and you can enjoy it!
Nutrition table of greek yogurt sauce
| | |
| --- | --- |
| Nutrition Facts | |
| Amount per serving | 100 g |
| Calories | 85 Kcal |
| Energy value | 353 kJ |
| Fat | 4 g |
| Saturated Fat | 2 g |
| Carbs | 6 g |
| Sugar | 4 g |
| Protein | 7 g |
| Salt | 0 g |