If you're searching for a tasty and healthy grilled chicken dish, look no further than these Grilled Chicken Skewers with Mayonnaise Marinade! Not only are they low in calories, but they're also incredibly easy to prepare. Trust me, once you try this recipe, it's sure to become a staple in your collection. Today, I'm excited to share my personal recipe for these delicious chicken kebabs – perfect for a summer barbecue or a simple weeknight dinner.
Mayonnaise chicken marinade is a delicious and easy way to add flavor and moisture to your grilled chicken. Plus, it's incredibly versatile and can be customized to your liking with the addition of different herbs and spices.
To make these grilled chicken skewers, I recommend using chicken breast's inner filet as it is more tender and easier to cut into even pieces. And the longer you let the chicken marinate, the tastier it gets! So if you have the time, try to marinate the chicken for at least 4 hours, or even overnight for maximum flavor.
How to cook chicken kebabs in the oven or on a grill
There are two main ways to cook these chicken kebabs: in the oven or on a grill. To cook them in the oven, preheat your oven to 200°C (400°F) and line a baking sheet with parchment paper. Thread the marinated chicken onto skewers and place them on the prepared baking sheet. Make sure that chicken would not be touching the baking sheet. Bake for 15-20 minutes, turning once, or until the chicken is cooked through and lightly browned.
To grill the chicken skewers, preheat your grill to medium-high heat. Thread the marinated chicken onto skewers and grill for 10-12 minutes, turning occasionally, or until the chicken is cooked through and slightly charred.
What to serve with chicken skewers
These grilled chicken skewers are delicious on their own, but they also pair well with a variety of sides. For a low-calorie meal, serve them with:
Simple Green Salad: Keep it light and refreshing with a simple green salad. Toss together your favorite greens, such as arugula or mixed baby lettuces, and add some sliced cucumber, cherry tomatoes, and a simple vinaigrette dressing.
Grilled Vegetables: If you want to add some more veggies to your meal, try grilling up some bell peppers, zucchini, and eggplant. Simply brush them with some olive oil and season with salt and pepper before grilling alongside your chicken skewers. You can also add some red onion and tomatoes for extra flavor.
Rice, Couscous, or Pita Bread: If you want to make your meal more filling, serve your chicken skewers with some rice, couscous, or pita bread.
These sides will complement the delicious flavor of the chicken skewers and make for a satisfying and healthy meal.
Storing and Reheating
Storing: store leftovers in an airtight container in the refrigerator for up to 3-4 days.
Reheating: reheat them in the oven or on the grill for 10-15 minutes until they are warm. You can also microwave the chicken skewers on high for 1-2 minutes, or until heated through.
Freezing: not recommended.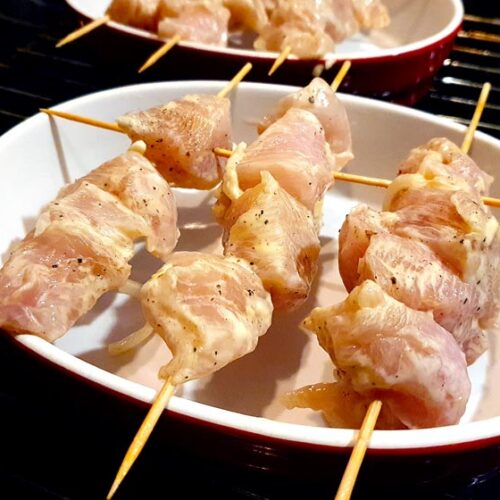 Grilled chicken skewers with mayonnaise marinade recipe
Equipment
Long bamboo roasting sticks
Ingredients
450

g

chicken breast's inner fillet

1

onion

3

garlic cloves

g

mayonnaise

Salt and pepper

Chili

(optional)
Instructions
Cut an onion in half and slice it lengthwise. Chop the garlic into medium-sized pieces and put both ingredients into a bowl.

Prepare the chicken by cutting it into 3-4 cm size pieces and placing it in the bowl with garlic and onions. Add spices and mayonnaise, mix well, and leave in the fridge for several hours or overnight for best results.

Soak bamboo roasting sticks in cold water for at least 30 minutes to prevent them from burning quickly in the oven.

Preheat the oven to 200°C.

Thread 3-4 pieces of chicken onto a bamboo stick. One portion consists of 3 sticks, but if you're extra hungry, you can use 4 sticks.

Place the chicken skewers on a baking sheet and make sure they do not touch the bottom of the sheet. You can use one bamboo stick to thread through 3-4 chicken sticks to make flipping them over easier.

Cook for 9 minutes, then flip the chicken skewers and cook for another 9 minutes.
Nutrition table of Chicken skewers with mayonnaise marinade recipe
| | |
| --- | --- |
| Nutrition Facts | |
| Amount per serving | 100 g |
| Calories | 121 Kcal |
| Energy value | 510 kJ |
| Fat | 6 g |
| Saturated Fat | 1 g |
| Carbs | 2 g |
| Sugar | 1 g |
| Protein | 15 g |
| Salt | 0.2 g |