Let's face it. Weeknights can be rough, and we all need a little help getting dinner on the table. But that doesn't mean you have to give up all of your favorite recipes!
This Crispy Breaded Chicken with Cheese Topping is a perfect example of a dish that's easy to make and full of flavor, but it's still packed with nutrition.
This is a dish that is perfect for busy weeknights. If you're looking for something that will come together in about 40 minutes without taking all night away from your family or friends, then this is it! It's also great if you need something easy enough to make on a Sunday afternoon when everyone else has more time than they know what to do with and they're just hanging out in your apartment waiting for someone else to make dinner.
Now let me tell you why this recipe is so good: First of all, it uses chicken breast meat instead of chicken wings or thighs—that means less fat and more flavor! And if you want even more flavor? Use light mayonnaise instead of regular mayo—you'll save some calories and still get the same rich taste. Also, non-stick pans are amazing because they don't require any oil.
Storing and reheating
Storing: cooked chicken refrigerate in an airtight container for up to 2 days.
Reheating: place chicken on the cooking tray, add mayonnaise and cheese. Shove it to the oven for 15 min at 180°C.
Freezing: not recommended.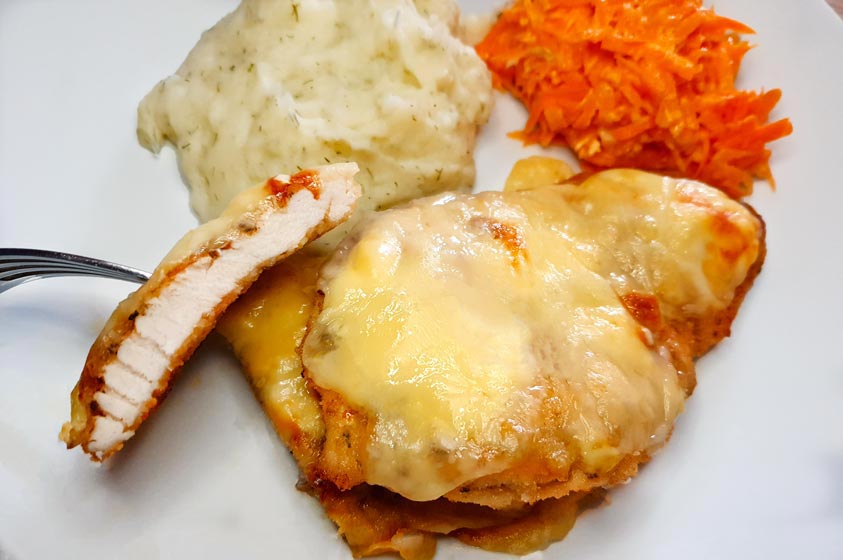 🕐Prep Time: 20 min 🕐Cook Time: 20 min 🥄Serves: 4 portions
INGREDIENTS
600 g of chicken breast
2 garlic cloves
1 onion
0.5 tsp. Of salt
0.5 tsp. Of pepper
0.5 tsp. Of Smoked paprika
1 tsp. Of oregano
A bit of chili if you like
100-150g of breadcrumbs
4 tsp. of sunflower oil
1.5 tbsp. Of low fat mayonnaise (for the marinate)
About 1 tsp. Of low fat mayonnaise for each chicken pieces
20g of thinly sliced cheese for each chicken piece
INSTRUCTIONS
In a small bowl mix all the spices (salt, pepper, smoked paprika and oregano).
Cut the onion in half and slice lengthwise. Take the garlic and chop it into mid-size pieces. Put everything in a bowl.
Cut chicken breast pieces in half and beat a little bit. Then sprinkle each side with spices, transfer chicken to a bowl with onions and garlic and add mayonnaise. Gently mix so all chicken pieces are covered in mayonnaise. Leave to marinate for an hour or even overnight.
Preheat the oven to 180C (grill function).
Preheat the pan to a bit more than medium heat and pour about 2 tbsp. of sunflower oil (for one cooking part in a non-stick 28 cm sized pan; to cook all chicken pieces it will take 2 parts). Pour breadcrumbs into the plate and dip each chicken side so that all the chicken is covered in a thin layer of breadcrumbs (you don't need to use onion and garlic, they were used only for marinating). Cook in the pan till each side becomes golden brown color.
Add more oil and lower the heat if the chicken starts burning.
Place chicken on a paper towel to drain extra oil. Then put it on the baking tray. Put 1 tsp of mayonnaise on the chicken and spread it. Then add cheese and place in the oven for 7-10min (cheese must melt and get a little bit brown).
Serve with mashed potatoes, rice and/or salad.
| | |
| --- | --- |
| Nutrition Facts | |
| Amount per serving | 100 g |
| Calories | 271 Kcal |
| Energy value | 907 kJ |
| Fat | 14 g |
| Saturated Fat | 3g |
| Carbs | 7 g |
| Sugar | 1 g |
| Protein | 16 g |
| Salt | 0 g |