Turkey meatballs are a healthy and low-calorie alternative to traditional beef or pork meatballs. These tender and flavorful meatballs are made with ground turkey, making them an excellent choice for those looking for a healthier and more nutritious meal option. Not only are they quick and easy to make, but they can also be frozen for up to 3 weeks, making them an ideal option for meal prep or for when you need a quick and easy dinner.
When making meatballs, it's important to use good quality turkey for the best taste. Even better if you use freshly ground turkey, it will give the meatballs a more authentic taste.
So, if you're looking for a healthy, low-calorie, and quick-to-make meal option, give turkey meatballs a try and experience the great taste and versatility they have to offer.
Storing and reheating
Reheating
Oven: Preheat the oven to 170°C (340°F). Place the meatballs on a baking sheet. Heat for 10-15 minutes.
Stovetop: Heat a pan over medium heat. Add a small amount of oil to the skillet and place the meatballs in the skillet. Cook for 5-7 minutes, turning occasionally.
Microwave: Place the meatballs in a microwave-safe dish. Heat for 1-2 minutes, or until they are heated through.
Freezing
Shape the turkey meatball mixture into similar sized balls and place them on a baking sheet lined with parchment paper. Place them in the freezer.
Optionally: you can place them in the freezer for about an hour until the meatballs are frozen solidly. Then transfer the meatballs to a plastic freezer bag and seal it tight. Label the bag with the date and keep it in the freezer for up to 3 weeks.
When ready to cook frozen meatballs, there's no need to thaw them first. Simply add them to your recipe as directed, and cook for a few extra minutes (up to 10 min max).
Turkey meatballs recipe – watch how to make it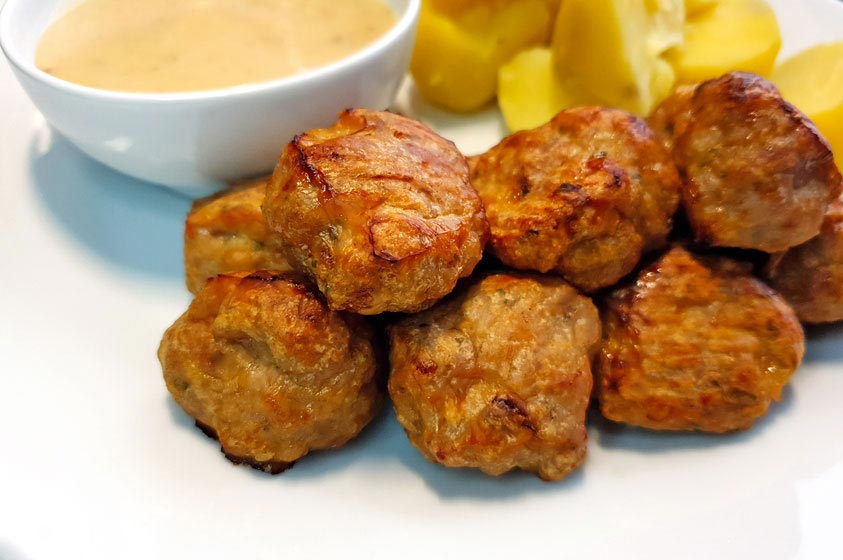 Ground turkey meatballs recipe
Get your daily dose of protein with these healthy and flavorful ground turkey meatballs. Quick and easy to make, perfect for meal prep.
Ingredients
1

kg

turkey shoulder mince

50

g

breadcrumbs

100

ml

milk

0.5

tsp

salt

0.5

tsp

pepper

2

tsp

dry parsley

0.5

tsp

nutmeg

0.5

tsp

smoked paprika

0.5

tsp

a bit of chili

(optional)

1

eggs

1

onion
Instructions
Begin by finely chopping onions and fry them in a pan until they turn a golden brown color.

In a separate large bowl, add breadcrumbs and milk, allowing the mixture to sit for a few minutes to absorb the liquid. Next, season with spices, add beaten eggs and the caramelized onions, and mix until well combined.

Incorporate the ground turkey, using your hands (or a spatula) to ensure everything is evenly distributed.

Preheat your oven to 200°C and prepare a baking tray by lining it with a sheets of baking paper.

Form the mixture into 2.5-3 cm meatballs. Place the meatballs in the oven and bake for 30 minutes. Afterward, check one meatball by taking it out and cutting it in half. If the inside is still red, then cook for 5-10 more minutes.

Serve with potatoes (of mashed potatoes) and fresh cucumber.
Nutrition table of turkey meatballs recipe
| | |
| --- | --- |
| Nutrition Facts | |
| Amount per serving | 100 g |
| Calories | 190 Kcal |
| Energy value | 797 kJ |
| Fat | 13 g |
| Saturated Fat | 5 g |
| Carbs | 4 g |
| Sugar | 1 g |
| Protein | 15.4 g |
| Salt | 1.16 g |
FAQ
Can I use ground chicken instead of ground turkey?
Yes, ground chicken can be used as a substitute for ground turkey in turkey meatball recipes.
How can I make turkey meatballs gluten-free?
Use gluten-free breadcrumbs or gluten-free flour to bind the meatballs together.
How can I make sure my turkey meatballs are cooked through?
Turkey meatballs should be cooked to an internal temperature of at least 74°C. You can use a meat thermometer to check the temperature or cut into one of the meatballs to check that the inside is no longer pink.