The oven-baked salmon recipe with thyme and honey sauce is ideal for anyone looking to prepare a quick and nutritious meal using basic ingredients. That is also my boyfriend's favorite meal.
Salmon is a fantastic source of many different vitamins, especially omega-3 fatty acids, which are crucial for good health. Thyme, on the other hand, is a fantastic component for this recipe because it is high in vitamins and minerals.
This recipe is great since it can be prepared in less than 30 minutes and is great for a quick and nutritious meal. The salmon has a delicious flavor that you'll undoubtedly enjoy because to the marriage of the savory thyme seasoning and the sweet honey sauce.
If you like, you can use ghee butter instead of regular butter or skip the butter altogether if you want to save some calories.
What to serve with baked salmon?
Usually, you have a wide range of options when it comes to serving salmon. Salmon goes nicely with rice, which is a traditional option. You can learn how to prepare several types of rice here, and both the white and brown sides are suitable for serving.
It can be served simply, with herbs added, or combined with chopped vegetables such bell peppers, carrots, or onions. Rucola, commonly referred to as rocket salad, is a wonderful alternative side dish since it has a somewhat peppery flavor that goes well with the salmon's aromas.
Alternatively, you can serve the salmon with a simple salad of greens like spinach or lettuce, cherry tomatoes, cucumber, and your preferred dressing. Other vegetable options that go well with salmon include roasted asparagus, green beans, or broccoli.
There are many different side dishes that go well with salmon, from rice and rucola to simple salads and roasted vegetables. Feel free to experiment and find the perfect combination that works for you.
Storing and reheating
Storing: store them in an airtight container in the refrigerator for up to 2 days.
Reheating: to reheat, preheat your oven to 180°C (350°F) and place the salmon on a baking sheet. Bake for about 5-10 minutes, or until it's heated through.
Freezing: not recommended.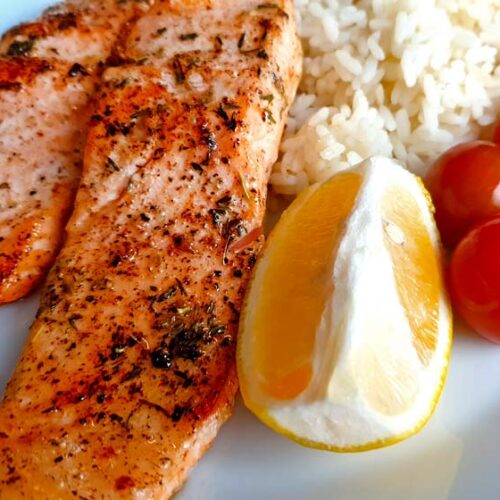 Oven-baked Salmon with Thyme and Honey sauce
Easy oven-baked salmon recipe with thyme and honey sauce. It's a healthy and delicious meal that's perfect for busy weeknights.
Ingredients
450-500

g

salmon

3-4

tsp.

butter

salt

pepper

nutmeg

1

lemon sliced into 4 pieces
Sauce
1

tsp

honey

2

tbsp

olive oil

1/2

tsp

thyme

4

tbsp

water
Side dishes
1

cup

cooked rice

8

cherry tomatoes

A bit of rocket salad

(rucola)
Instructions
Preheat the oven to 210°C.

Cut the salmon into 3-4 equally sized pieces.

Line a baking tray with baking paper. Place a spoonful of butter on the paper, spread it around a bit, then place a piece of salmon on top. Repeat with the remaining pieces.

Sprinkle a pinch of salt, pepper, and nutmeg over the salmon. Bake in the preheated oven for 5-6 minutes, depending on the size of the salmon pieces.

While the salmon is baking, prepare the sauce. Combine all sauce ingredients in a jar, secure the lid, and shake until the honey is well mixed.

After 5-6 minutes of baking, pour the honey sauce mixture over the salmon and add cherry tomatoes. Continue to bake for another 5-6 minutes.

Once the salmon is done baking, heat a pan over high heat and melt some butter. Fry one side of the salmon for 30-40 seconds, then flip and fry the other side for the same amount of time.

To serve, place the salmon on a plate. Pour any remaining sauce from the baking tray (not the pan) over the salmon, then add cherry tomatoes and rice. Squeeze lemon juice over the top of the salmon, and it's ready to enjoy!
Nutrition table of oven baked salmon
| | |
| --- | --- |
| Nutrition Facts (of salmon) | |
| Amount per serving | 100 g |
| Calories | 297 Kcal |
| Energy value | 1233 kJ |
| Fat | 25 g |
| Saturated Fat | 11 g |
| Carbs | 0.6 g |
| Sugar | 0.6 g |
| Protein | 17 g |
| Salt | 0.4 g |