Are you looking for a simple and delicious chicken wings recipe? Ginger and soy sauce chicken wings is a delicious dish that is perfect for parties or family dinners. Also very nutritious and full of protein.
Adding a little bit of sugar to your dish can give it a sweet kick without adding too much extra calories. Try using honey instead of sugar, or mix honey with brown sugar for a sweeter taste.
This soy sauce chicken wings recipe is quick and easy to make and it tastes great. It's full of flavor so you don't have to worry about adding a bunch of extra spices or sauces.
Storing and reheating
Storing: can refrigerate in an airtight container for up to 2 days.
Reheating: can be reheated in the microwave for a couple minutes or in the oven for 15 min at 150°C.
Freezing: not recommended.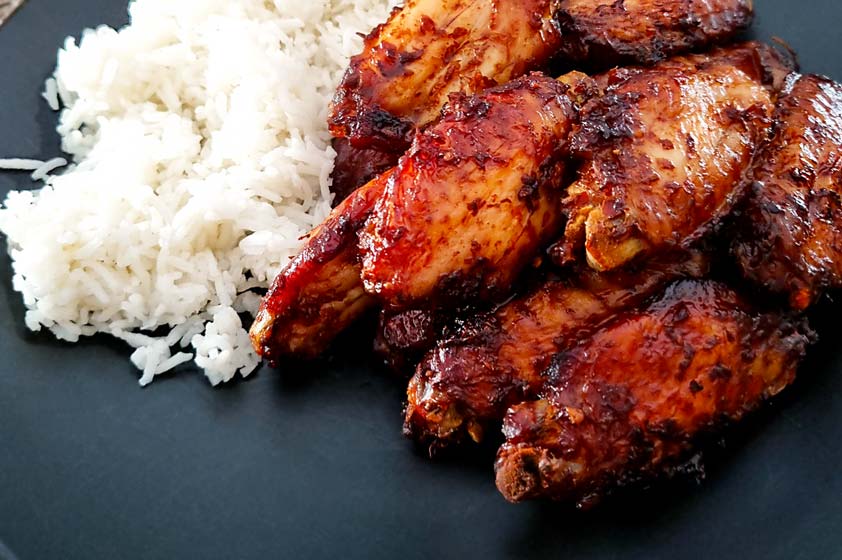 🕐Prep Time: 24-48 hours 🕐Cook Time: 35 min🥄Serves: 2 portions
INGREDIENTS
90 ml soy sauce
20 g brown sugar
15 g chopped garlic (about 3 cloves)
20 g of freshly chopped ginger
0.25 tsp black pepper
10 ml olive oil
500 g of chicken wings
INSTRUCTIONS
In a small bowl, mix soy sauce, sugar, olive oil, black pepper, chopped garlic and ginger.
Add chicken wings in a bowl and pour the mixture. Try to evenly distribute sauce throughout the chicken wings. Let it rest in the fridge for 24 to 48h.
Preheat the oven to 200C. Place baking paper on a tray and start putting chicken wings. Pour a bit of sauce on each chicken wing and shove it in the oven for 15-20 min in the middle line of the oven.
After 15-20 mins turn chicken wings up and cook for 10 more minutes. Then turn them again and place the tray a bit higher in the oven. Cook for 5 more minutes till the wings get golden brown color.
Serve chicken wings with rice or/and salad.
Enjoy!
| | |
| --- | --- |
| Nutrition Facts | |
| Amount per serving | 100 g |
| Calories | 165 Kcal |
| Energy value | 692 kJ |
| Fat | 10 g |
| Saturated Fat | 2 g |
| Carbs | 4 g |
| Sugar | 3 g |
| Protein | 15 g |
| Salt | 1 g |