Are you looking for a simple and delicious chicken wing recipe? Soy ginger sauce chicken wings are delicious dishes that are perfect for parties or family dinners. They are also very nutritious, full of protein and low in fat.
Adding a little bit of sugar to your dish can give it a sweet kick without. But if you do not want to use brown sugar, you can use honey instead.
What is good to serve with soy sauce wings?
Consider pairing chicken wings with fluffy rice, fresh green salad, grilled vegetables or pickled vegetables. Don't hesitate to get creative and tailor your side dishes to your preferences!
Do you cook chicken wings in sauce or add after?
To achieve the perfect flavor, marinate for several hours or even better – overnight your chicken wings in the soy ginger sauce before placing them in the oven. This allows the wings to absorb the essence of the sauce, resulting in a delectably tender and flavorful outcome. For even more flavor, you can pour more sauce on the top of chicken wings in the middle of cooking.
The chicken wings & other cuts
I prefer to use chicken wings or drumettes. These cuts are not only well-suited for absorbing the marinade but also provide a satisfying combination of meatiness and tenderness. The variety of textures ensures that every bite is a delightful experience, from the crispy skin to the juicy meat within.
Storing and reheating
Storing: wait till chicken wings cool down, put in the airtight container and can refrigerate for up to 2 days.
Reheating: can be reheated in the microwave for a couple minutes or in the oven for 15 min at 150°C.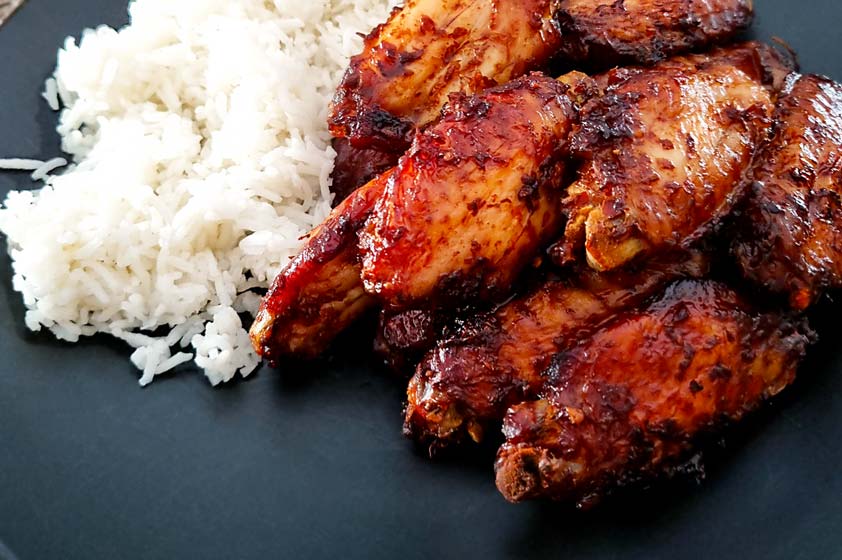 Soy Ginger Chicken Wings recipe
Indulge in the perfect blend of ginger and soy flavors with this easy-to-follow Soy Ginger Chicken Wings recipe.
Ingredients
90

ml

soy sauce

20

g

brown sugar

15

g

chopped garlic

(about 3 cloves)

20

g

freshly chopped ginger

0.25

tsp

black pepper

10

ml

olive oil

500

g

chicken wings
Instructions
In a small bowl, mix soy sauce, sugar, olive oil, black pepper, chopped garlic and ginger.

Add chicken wings in a bowl and pour the mixture. Try to evenly distribute sauce throughout the chicken wings. Let it rest in the fridge for 24 to 48h.

Preheat the oven to 200C (390 F). Place baking paper on a tray and start putting chicken wings. Pour a bit of sauce on each chicken wing and shove it in the oven for 30-35 min in the middle line of the oven.

After chicken wings are done, take them out of the oven and let them rest for 5 more minutes.

Serve chicken wings with rice or/and salad.
Nutrition table of soy ginger chicken wings
| | |
| --- | --- |
| Nutrition Facts | |
| Amount per serving | 100 g |
| Calories | 165 Kcal |
| Energy value | 692 kJ |
| Fat | 10 g |
| Saturated Fat | 2 g |
| Carbs | 4 g |
| Sugar | 3 g |
| Protein | 15 g |
| Salt | 1 g |