A simple and quick Quiche recipe. This is not a traditional Quiche recipe, but my simpler version of it. You can change the recipe the way you want – choose different vegetables, seasoning, cheese or add a bit of heavy cream for even richer taste. Prepare your tray and let's begin!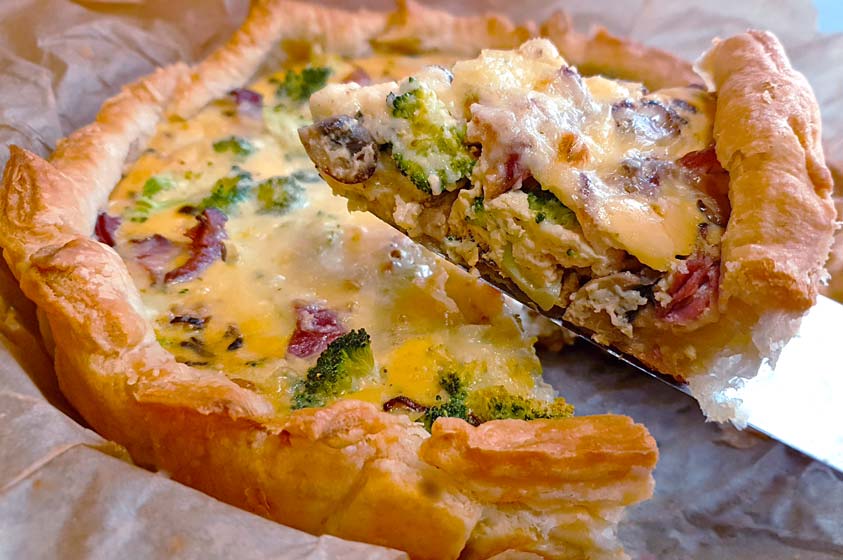 🕐Prep Time: 25 min 🕐Cook Time: 20-25 min🥄Serves: 22 cm cake form
INGREDIENTS
1 sheet of puff pastry
500 g of dry beans
5 eggs
200 ml of milk
Salt and Pepper
90 g of cold smoked bacon
⅓ of leek
3 mushrooms (champignons 50-65mm)
1/2 tsp. of butter
60 g of grated cheese
8-10 small broccoli florets
4 cherry tomatoes
INSTRUCTIONS
Preheat the oven to 200 C.
Place baking paper in the cake form. Lightly roll the puff pastry so it would fit round baking form. Corners height should be about 3-4 cm. With a fork prick the pastry 3-4 times. Place baking paper on the pastry and pour beans. Bake for 15 min.
While pastry is baking, chop the bacon into small cubes and fry in the pan till it gets brown. Place it on the towel to dry a bit.
Slice leek in half and chop into small pieces. Wash the mushrooms and chop in about 1 cm long and 0.3-0.5 cm wide slices. Heat the pan, add butter and fry leek with mushrooms for several minutes. They should become lightly brown.
In a separate bowl pour milk, add eggs and a bit of pepper. Whisk till consistency becomes fluffy. Add half of granted cheese and lightly whisk.
When the pastry is done cooking, take it out, remove beans and baking paper.
Add mushrooms, leek and pour a half of the egg mixture. Add bacon, broccoli florets and pour the leftover egg mixture. On top sprinkle the leftover cheese and shove it in the oven for 20 min. The top must rise a bit and turn golden brown.
After 20 min check with a toothpick if the inside is cooked. If no, cook for 3-5 more minutes.
Bon Appétit!
| | |
| --- | --- |
| Nutrition Facts | |
| Amount per serving | 100 g |
| Calories | 173 Kcal |
| Energy value | 723 kJ |
| Fat | 11 g |
| Saturated Fat | 5 g |
| Carbs | 10 g |
| Sugar | 2 g |
| Protein | 8 g |
| Salt | 0.6 g |