Homemade chocolate cupcakes are way better than boxed cake mixes. Made from scratch with everyday ingredients cupcakes have a rich chocolaty flavor and it is easy to make. To reach the best result use unsweetened cacao and dark chocolate (~50%).
If you are a homemade cupcake and a coffee lover, you must check out my Chocolate and Coffee Cupcakes recipe.
Baking cupcakes
The most important thing of getting moist cupcakes are not to over cook them. Baking time must be adjusted to your oven. If it is an older electric oven it will take 1.5x times more time for cupcakes to bake instead of a new electric oven. Gas oven will take twice as much time for cupcakes to bake compared to the new electric oven. Also cupcake time depends on the cupcake size. If it is a small cupcake it will take up to 10min for them to bake in any type of oven and if it is a large cupcake (about a wide of 36cl Ikea cup) then it might take about 20 min to bake in the new electric oven.
Always check with a toothpick the inside of the cupcake. If the toothpick is too wet then cook for a couple more minutes and check again. Once the toothpick is just slightly wet, then it is time to take cupcakes out of the oven and leave for several minutes to cool down.
Storing and Reheating
Storing: Store in an airtight container for up to 3 days.
Reheating: Not recommended as cupcakes will become dry.
Freezing: Possible, but not recommended as it won't be that tasty.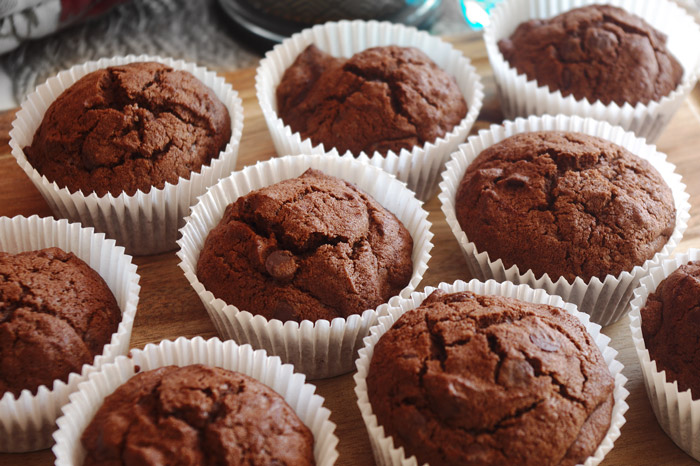 🕐 Prep Time: 30 min 🕐 Cook Time: 15 min 🥄 Serves: 12 cupcakes
INGREDIENTS
125g margarine/butter
60g brown sugar
2 eggs
2 tsp of cacao
25g black melted chocolate (not less than 50% of cacao)
50g of chopped chocolate
150g flour
Half teaspoon of baking powder
⅓ tsp of vanilla sugar
INSTRUCTIONS
In a bowl mix butter with sugar until white and creamy.
In a separate bowl sift dry in ingredients (flour, baking powder, vanilla, cacao).
In the butter and sugar mixture add one egg, one tbsp of dry ingredients mixture and whisk to combine. Then add a second egg and again one tbsp. of dry ingredients mixture and whisk well.
Add the left of the dry ingredient and whisk.
Add melted chocolate and gently mix with spatula several times. Add chopped chocolate and again mix.
Turn the oven to 190 C. Prepare cupcake tray and paper cupcake forms.
Fill cupcake papers about 3/4 the way up and put in the oven for 12-14 min.
With a toothpick check if cupcakes are cooked. If not put for 5 more minutes.
Take out cupcakes from the oven and let them cool down for a couple minutes.
| | |
| --- | --- |
| Nutrition Facts | |
| Amount per serving | 100g |
| Calories | 401 kcal |
| Energy value | 1674 kj |
| Fat | 25 g |
| Saturated Fat | 10 g |
| Carbs | 36 g |
| Sugar | 13 g |
| Protein | 6 g |
| Salt | 0.2 g |