Perfect chocolate cupcakes when crawling for something sweet. Taste well with brown sugar, but can also be replaced with white sugar. For less sweet use 80 g of white sugar, for very sweet – 120 g and more if you like. Prepare your trays and let's begin!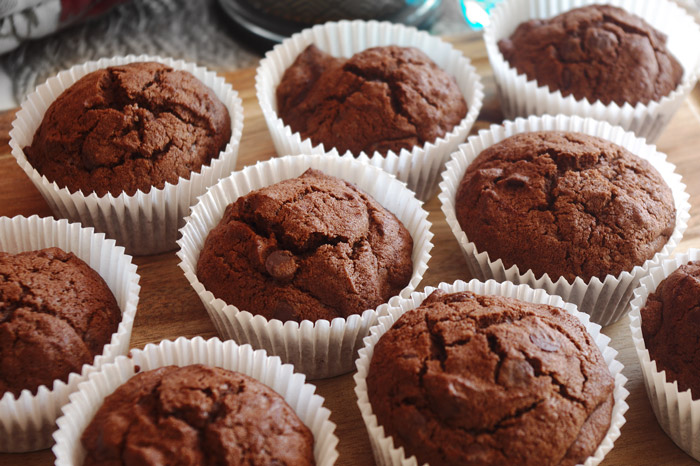 🕐 Prep Time: 30 min 🕐 Cook Time: 15 min 🥄 Serves: 12 cupcakes
INGREDIENTS
125g margarine/butter
60g brown sugar
2 eggs
2 tsp of cacao
25g black melted chocolate (not less than 70% of cacao)
50g of chopped chocolate
150g flour
Half teaspoon of baking powder
⅓ tsp of vanilla sugar
INSTRUCTIONS
In a bowl mix butter with sugar until white and creamy.
In a separate bowl sift dry in ingredients (flour, baking powder, vanilla, cacao).
In the butter and sugar mixture add one egg, one tbsp of dry ingredients mixture and whisk to combine. Then add a second egg and again one tbsp of dry ingredient mixture and whisk well.
Add the left of the dry ingredient and whisk.
Add melted chocolate and gently mix with spatula several times. Add chopped chocolate and again mix.
Turn the oven to 190 C. Prepare cupcake tray and paper cupcake forms.
Fill cupcake papers about 3/4 the way up and put in the oven for 15-20 min.
With a toothpick check if cupcakes are cooked. If not put for 5 more minutes.
Take out cupcakes from the oven and let them cool down for a couple minutes.
| | |
| --- | --- |
| Nutrition Facts | |
| Amount per serving | 100g |
| Calories | 401 kcal |
| Energy value | 1674 kj |
| Fat | 25 g |
| Saturated Fat | 10 g |
| Carbs | 36 g |
| Sugar | 13 g |
| Protein | 6 g |
| Salt | 0.2 g |