Homemade dark chocolate cupcakes are way better than boxed cake mixes. Made from scratch with everyday ingredients cupcakes have a rich chocolaty flavor. These cupcakes are easy to make and perfect for any occasion. Wondering how to cook moist cupcakes? Check out my blog about on how to make moist cupcakes.
If you are a homemade cupcake and a coffee lover, you must also check out my Coffee Cupcakes recipe.
What chocolate can be used for cupcakes?
To get the best result, use unsweetened cocoa and dark chocolate with at least 50% cocoa solids. High-quality chocolate will make a huge difference in the taste and texture of your cupcakes. You can use any brand of dark chocolate, but be sure to check the label for the percentage of cocoa solids.
How to make sugar free dark chocolate cupcakes?
To prepare sugar-free dark chocolate cupcakes, you can make a couple of key substitutions. Instead of using brown sugar, use stevia as a sweetener, and for dark chocolate, choose sugar-free chocolate. In the recipe below, replace the brown sugar with 70 grams of stevia, while keeping the dark chocolate quantity at 100 grams as specified. By making these simple swaps, you'll be able to enjoy delicious, guilt-free dark chocolate cookies that are perfect for those seeking a sugar-free alternative.
Storing and Reheating
Storing: place cupcakes in an airtight container and keep them in the fridge for up to 4 days.
Reheating: cupcakes are delicious at room temperature, but if you want them warm, just microwave them for 30 seconds or 1 minute.
Freezing: wrap them in plastic wrap and place them in an airtight container. They will keep well in the freezer for up to a month.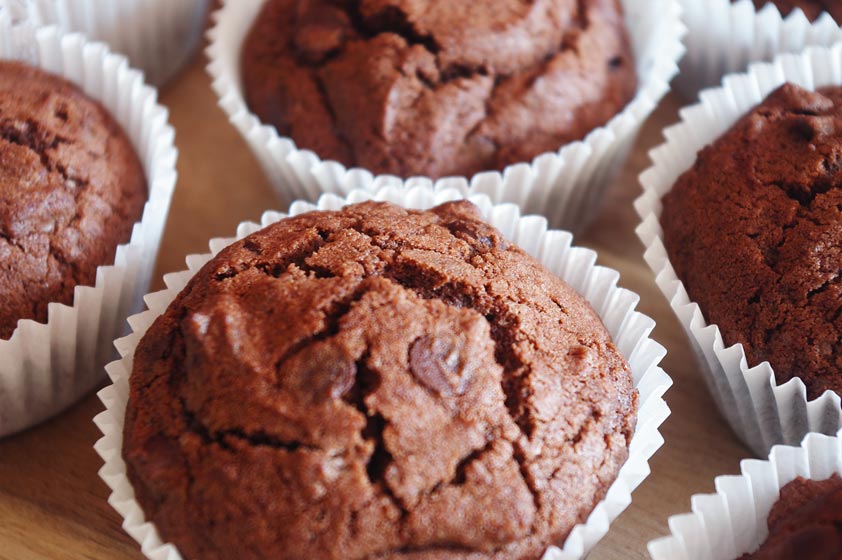 Dark chocolate cupcake recipe
Enjoy the best chocolate treat with this simple recipe for dark chocolate cupcakes. Rich, moist, and perfect for any occasion!
Ingredients
100

g

butter/margarine

90

g

brown sugar

90

g

greek yogurt

2

eggs

3

tsp

cacao

30

g

dark melted chocolate

70

g

chopped chocolate

120

g

flour

8

g

baking powder

0.5

tsp

vanilla sugar

Pinch of salt
Instructions
In a bowl, mix butter with sugar until white and creamy. Then, add the yogurt and mix thoroughly.

In a separate bowl, sift the dry ingredients (flour, baking powder, vanilla, cocoa).

To the butter-sugar-yogurt mixture, add one egg along with one tablespoon of the dry ingredients mixture. Whisk to combine. Then, add a second egg and another tablespoon of the dry ingredients mixture, whisking well. Finally, incorporate the remaining dry ingredients and whisk until thoroughly combined.

Now, add the melted chocolate and gently fold it in with a spatula. Afterward, add the chopped chocolate and mix once more.

Preheat the oven to 160°C (320°F). Prepare a cupcake tray and line it with paper cupcake liners.

Fill the cupcake liners about three-quarters full and place them in the oven for 20-25 minutes.

Remove the cupcakes from the oven and allow them to cool for a few minutes before serving or further decorating.
Nutrition table of dark chocolate cupcakes
| | |
| --- | --- |
| Nutrition Facts | |
| Amount per serving | 100g |
| Calories | 374 kcal |
| Energy value | 1562 kj |
| Fat | 22 g |
| Saturated Fat | 14 g |
| Carbs | 35 g |
| Sugar | 19 g |
| Protein | 7 g |
| Salt | 0.1 g |