In February 2023, my boyfriend and I visited Dublin for 5 days. We were fortunate to have sunny weather throughout our trip. One of the most memorable things about Dublin was the Irish beef burgers, which were incredibly delicious, even at Burger King! I highly recommend trying them during your trip to Dublin.
Exploring Dublin's food
On our first day, we tried chicken burgers at Mad egg. I wasn't expecting much from chicken burgers, but they surprised me. The chicken breast was juicy and large, and it tasted really good. The only downside was that it was a bit difficult to eat due to the size of the chicken piece. Nevertheless, I would recommend trying these burgers if you're looking for a tasty quick meal during your trip to Dublin. The only trouble we faced was ordering since we had to do it through their website.
Unfortunately, my card was declined on their page. But, we were able to pay at the bar using the same card.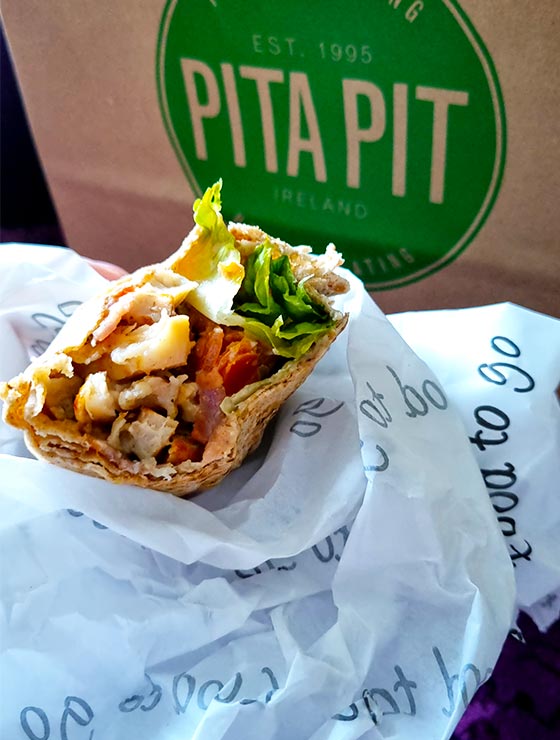 We also tried the local pizza at "Romayos", which was nothing extraordinary but a decent pepperoni pizza if you're looking for a simple, quick meal.
For lunch on the second day, we had tortilla wraps from "Pita Pit." They tasted okay, but the portion size was quite small. I tried to order through the Deliveroo app, but I encountered issues with my card once again. After a second attempt, I managed to place the order.
For dinner on the second day, we went to Heisenburger Dublin. It's definitely worth a visit as the burgers are delicious and reasonably priced compared to other places. The restaurant is small, so we were lucky to get a seat during a less busy time. The waiter was friendly, and I recommend trying their fries, which were really good, just a bit pricey.
On the 3rd day, we had lunch at the Fish Shop, a small restaurant specializing in fish and chips. It's better to book a table in advance as they tend to have many clients. Again, we were lucky to find a free space, as the restaurant became full later. They have nice atmosphere, friendly and very helpful waiters and of course, the food was super delicious, with the fish not being greasy, but rather soft and melting in your mouth. The fries were perfectly cooked and crispy. So far, this is the best fish & chips I have ever tried. I enjoyed the meal, although the portion was a bit too big for me. Also, compared to other places, the price was low.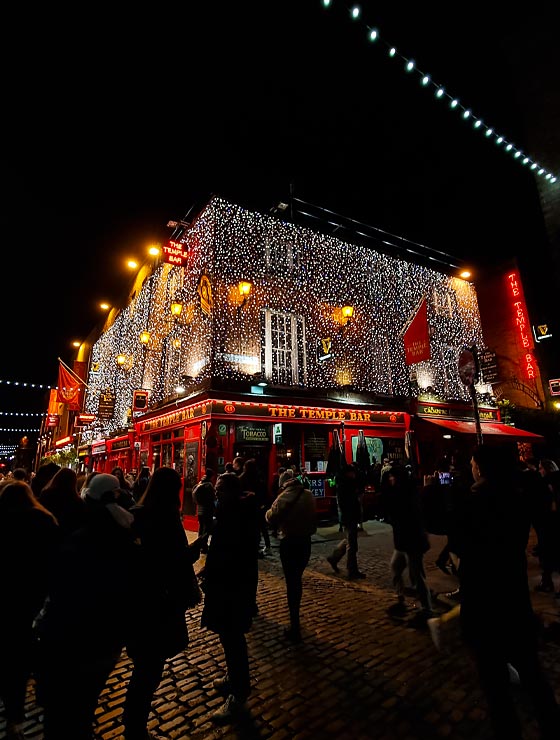 I can't remember the order of the food we had on the other days, but in the evenings, we explored Dublin's nightlife. I must say, Dublin is very lively during the evening. The thing that struck me the most was how friendly and happy everyone was, especially compared to Vilnius. Everyone was enjoying the evening.
Fast food in Dublin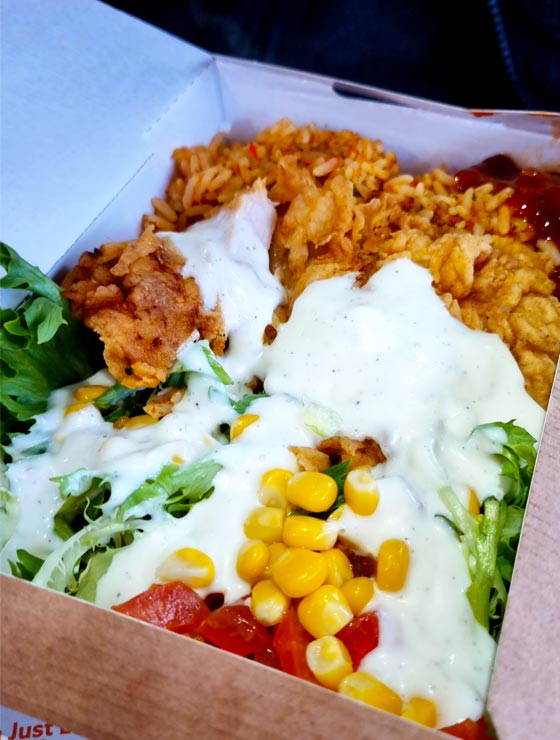 All the restaurants in Dublin provided nutrition information for their dishes, which was a pleasant surprise for me. It may be normal in other countries too, but in Lithuania, only some places have it. Fast food restaurants like KFC, McDonald's, and Burger King offer a wide variety of dishes with low calories and vegan options, which was nice to see. What I liked the most was that these fast food chains used local meat like Irish beef which is really good. The most I enjoyed burgers at Burger King as they had a distinct taste compared to what I've tried in London or Vilnius. However, the Irish chicken didn't leave a good impression on me. I would say that you can find much tastier chicken in Lithuania. Nevertheless, trying the Angus beef burger at Burger King is a definite must during your trip to Dublin.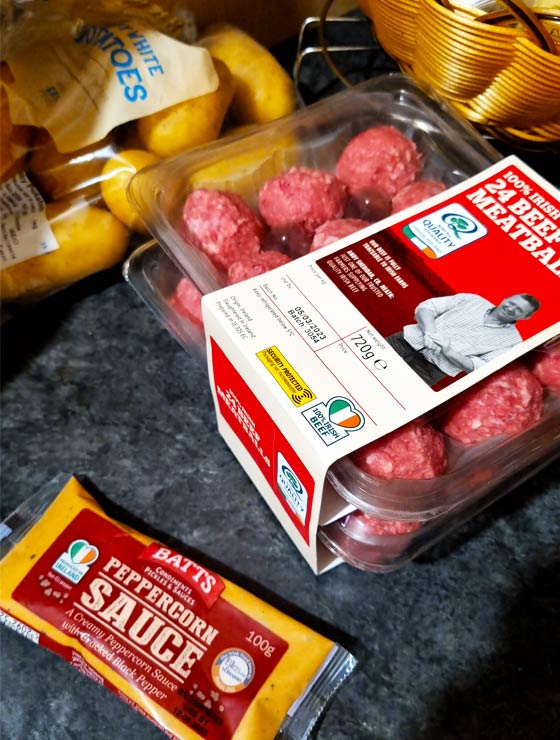 As I mentioned earlier, Irish beef is really good. Since we were staying in an Airbnb with access to a kitchen, we bought some products from Lidl and made beef meatballs with baby potatoes and pepper sauce. These homemade meatballs became a highlight of our trip to Dublin, and we ended up making them two days in a row.
To sum up my trip to Dublin, I can say that Irish people are incredibly nice and friendly, which left a lasting impression on us. Additionally, Dublin is exceptionally clean, especially when compared to London. The streets are well-maintained, and even in fast food restaurants, the employees keep the tables clean.
Transportation in Dublin city
When arriving at the airport, I recommend taking an express bus as it saves a lot of time and hassle. One-way tickets cost around 7 EUR. However, it's advisable to have some cash on hand, as we encountered issues with card payments upon arrival.
When returning to the airport from the city center, we took the same express bus that was scheduled to arrive at the city center almost 3 hours before our flight. This turned out to be a good choice as the bus was running a bit late, and we arrived at the airport with about 2 hours before our flight. Dublin airport is quite large, so allowing a 2-hour buffer before the flight is a smart decision.
Public transport
Public transport in Dublin is easy to navigate, and we used Google Maps for bus and train schedules. Both buses and trains were clean. If you're staying for more than three days, I recommend purchasing a Leap Card, which makes using public transport more convenient. We bought ours from a small shop in the city center. The card costs 5 EUR, and the minimum top-up is also 5 EUR. You can also return the card by filling out a form. However, using the Leap Card app can be a bit confusing.
Also, bus drivers accept only exact amount of cash for a trip, so have some coins.
How to use Leap Card app (Leap Top-up)
Here are some tips we learned abour Leap Card application: when connecting the card to the app for the first time, attach it to the back of your phone (this worked for Samsung and OnePlus phones), and then open the Leap Top-up app (iPhone users should try placing the card to the top of the phone). The orientation of the card matters too, as you should only use the side with the frog logo. Once you manage to open the app with the card, you can top up money (minimum is 5 Eur). Remember that every time you want to check your balance, you must add the card to your phone. Yet later it is not necessary to first add a card and then open the app, it should work first opening the app and then adding the card. Only the first time it is harder to connect.
Tips for traveling to Dublin
Have some cash for the first few days as your card might not work instantly.
Be prepared with warm clothes as the weather can change several times throughout the day. My boyfriend and I had fleece sweaters, which were perfect for this changing weather.
Explore stores and restaurants located a bit farther away from the city center for better prices.
Lidl and Aldi offer cheaper products, while Tesco is quite pricey. Another shop that offers affordable prices is Dealz.
Consider purchasing a Leap Card for convenient use of public transport if staying for more than three days.
Take a day trip to the nearby coastal towns of Howth or Dun Laoghaire for beautiful scenery and fresh seafood.
Respect local customs: Irish people are known for their warmth and hospitality. Be polite, friendly, and respectful of local customs and traditions during your visit.
Embrace the pub culture: Pubs are an integral part of Irish culture and you will find many many many of them throughout Dublin! Take some time to visit traditional pubs, enjoy live music sessions, and experience the friendly atmosphere.