Looking for a quick and easy breakfast idea that's both delicious and healthy? Look no further than these breakfast egg cupcakes! Packed with protein and customizable to your taste preferences, this recipe is sure to become a staple in your breakfast routine.
To make these breakfast egg cupcakes, all you need are eggs, milk, and a few spices. From there, you can add in whatever ingredients you like, such as mushrooms, yellow bell pepper, or ham instead of bacon. Best of all, this recipe is so simple and straightforward that you can make it even when you're short on time.
Tips and tricks
Whisk your eggs and milk together well before pouring them into the muffin tin. This will help ensure that each egg cupcake has an even distribution of ingredients.
Don't be afraid to get creative with your add-ins! Try adding in some spinach or shredded cheese for a different flavor profile.
Don't overfill the muffin cups. Fill each muffin cup about 3/4 full with the egg mixture. Overfilling the cups can cause the egg to overflow and create a mess in your oven.
Storing and reheating
Storing: to store these breakfast egg cupcakes, simply place them in an airtight container in the fridge. They will keep for up to 3 days.
Reheating: put them in the microwave for 30-60 seconds or until heated through. Or reheat in the oven on 150C for 5-10 min.
Freezing: not recommended.
Egg cupcakes recipe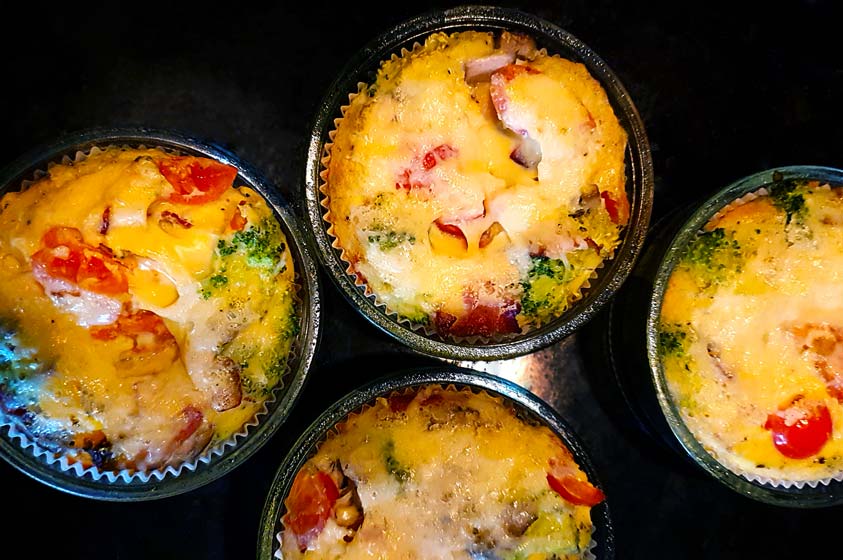 🕐Prep Time: 20 min 🕐Cook Time: 20-25 min 🥄Serves: 5-6 cupcakes
INGREDIENTS
7 eggs
100 ml of milk
⅓ red bell pepper
6-7 cherry tomatoes
1/5 broccoli
90 g small bacon cubes
Cheese for topping
Salt
Pepper
INSTRUCTIONS
Begin by preparing your ingredients: chop the red bell pepper into small cubes, cut the stems off the broccoli and halve the large florets so that they're about 1 cm in size, cut the cherry tomatoes into quarters, grate the cheese, and cut the bacon into 1 cm cubes.
Fry the bacon in a pan until it turns golden brown, then place it on a paper towel to drain off any excess grease.
Preheat the oven to 190°C (375°F) and prepare your cupcake trays by lining them with paper cupcake cups.
Place 2-3 broccoli florets, 3-4 red pepper cubes, 2 pieces of cherry tomatoes, and 4-6 pieces of bacon in the bottom of each paper cup.
To make the egg mixture, crack the eggs into a mixing bowl, pour in the milk, add salt and pepper, and mix everything together using a hand mixer until the mixture becomes fluffy.
Pour the egg mixture over the vegetables and top with grated cheese.
Bake in the preheated oven for 20-25 minutes. The mixture should rise before finishing cooking, but if it doesn't, leave it in the oven for a couple more minutes.
Enjoy!
Nutrition table of breakfast egg cupcakes
| | |
| --- | --- |
| Nutrition Facts | |
| Amount per serving | 100 g |
| Calories | 139 Kcal |
| Energy value | 581 kJ |
| Fat | 10 g |
| Saturated Fat | 4 g |
| Carbs | 2 g |
| Sugar | 1 g |
| Protein | 10 g |
| Salt | 0.55 g |