This egg cupcakes recipe is a great way to start your day with a healthy, balanced breakfast. Eggs are a great source of protein and they're super-easy to make, so you can do it even if you're in a rush!
Egg Cupcakes are made of scrambled eggs, milk and some spices. You can add whatever ingredients you like – mushrooms, yellow bell pepper, ham instead of bacon and more milk if you like. Best to use Free-range eggs, but regular ones will do too.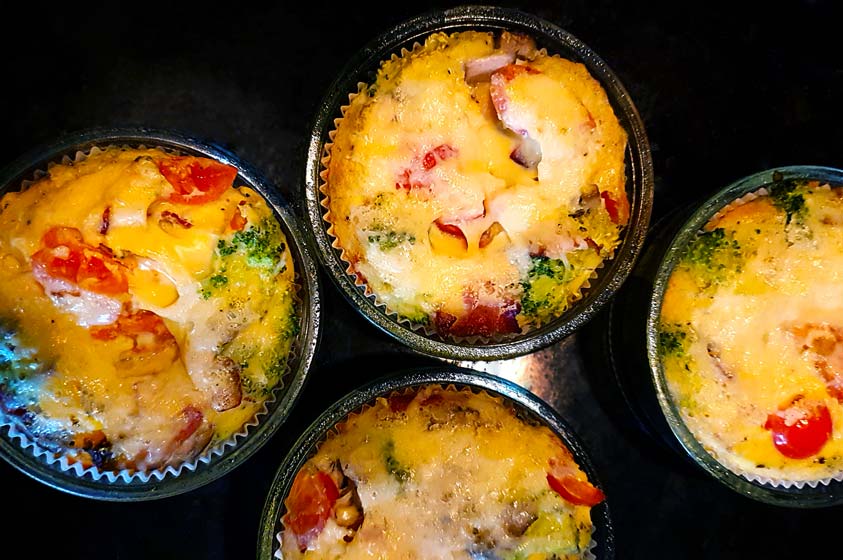 🕐Prep Time: 20 min 🕐Cook Time: 20-25 min 🥄Serves: 5-6 cupcakes
INGREDIENTS
7 eggs
100 ml of milk
⅓ red bell pepper
6-7 cherry tomatoes
1/5 broccoli
90 g bacon
Cheese for topping
Salt
Pepper
INSTRUCTIONS
Prepare your ingredients: chop red bell pepper into small cubes (~1 cm). Cut the stem of broccoli and cut large florets in half. You should be left with about 1 cm sized broccoli florets. Cut cherry tomatoes into 4 pieces, grate the cheese and cut bacon into 1 cm cubes.
Fry the bacon till it gets golden brown and put it on the paper towel to drain a bit.
Preheat the oven to 190 C and prepare your cupcake trays – cover it with paper cupcake cups.
To the bottom of the paper cups add 2-3 broccoli florets, 3-4 of red pepper cubes, 2 pieces of cherry tomatoes and 4-6 pieces of bacon.
Prepare the egg mixture: crack the eggs into the bowl, pour milk, add salt and pepper. Mix it with a mixer for a couple minutes till you get a fluffy texture.
Pour the egg mixture on the vegetables and add cheese on top.
Put it in the oven for 20-25 min. Mixture should rise before finishing cooking, if it doesn't, then leave for a couple more minutes.
Enjoy!
| | |
| --- | --- |
| Nutrition Facts | |
| Amount per serving | 100 g |
| Calories | 139 Kcal |
| Energy value | 581 kJ |
| Fat | 10 g |
| Saturated Fat | 4 g |
| Carbs | 2 g |
| Sugar | 1 g |
| Protein | 10 g |
| Salt | 0.55 g |